| | |
| --- | --- |
| Posted on July 29, 2014 at 1:10 AM | |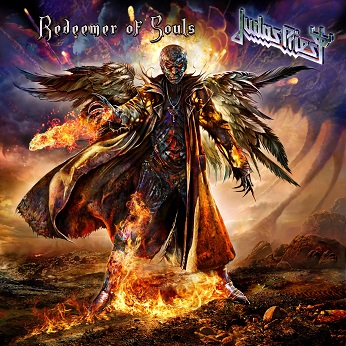 Judas Priest – Redeemer Of Souls
Written by The Rock Man
There is a school of thought by some in the music industry that there are some bands that have been around for long enough and instead of trying to recapture past glories should go quietly into the night with whatever grace and dignity they have left. Apparently they have all had their time and nobody wants to hear new music from these fossils. This is a theory I do not subscribe to and it would appear neither do British metal Gods Judas Priest.
At age 62 Rob Halford still vocally dominates the world of metal and quite simply is mopping the floor with other singers half his age. Halford puts today's generation to shame. The same can also be said for veteran guitarist Glenn Tipton who is still the master of his craft and is second to none in the guitar world. As always bassist Ian Hill and drummer Scott Travis are a solid and powerful force as the rhythm section, and add to the mix youngster Richie Faulkner on guitar who brings fresh blood and new ideas to the band. Having said this and listening to the band's new album Redeemer Of Souls, it staggers me why anyone would question why they continue to record new material and why they refuse to retire.
Every now and then I will come across an album that will have a song or two that I think are not quite up to the standard of the rest of the record. Of the 13 cuts that feature on Redeemer Of Souls every single track is a winner, not one is filler material. Lyrically the album opener Dragonaut follows in a similar vein to Judas Priest classics like Painkiller, The Sentinel, Metal Gods and so on and so forth. It also has that traditional trademark sound that the band is known for with the twin guitar attack of Tipton and Faulkner over a thunderous double-bass drum frenzy from drummer Travis and scorching vocals from lead singer Halford. From the moment you hear the opening line "Welcome to my world of steel" you know something special is about to unfold over the next 60+ minutes. The title track quickly follows and continues this familiar pattern. Halls Of Valhalla tells of Asgardians on the high seas travelling home while Sword Of Damocles is a really interesting track. It has this big catchy chorus and running through the song is this guitar riff that I would expect to hear on an Iron Maiden track, yet somehow with this it maintains all the characteristics of a Judas Priest song. March Of The Damned is a salute to metal fans worldwide and classic Priest in nature boldly stating "We're walking the streets/We know where we'll meet/Can't stop us they don't know why/They try/Can't hurt us we'll never die".
Further down the track list the band revisits the world of vengeful supernatural beings with Metalizer followed by Crossfire which feature this slight blues flavour in the guitar riff at the beginning of the song, but is full on power and melody by the chorus. Bringing the album to a close is the beautiful ballad Beginning Of The End where Halford and co explore passing on to the afterlife. Of course for those who need more there is the deluxe version available which contains a second disc featuring an additional five tracks. The quality of these songs are just as impressive as those on the standard issue, the highlights here being Bring It On and Never Forget which sees the band saying 'Thank you' to their fans for 40 years of loyalty.
From my point of view, if you took 1/3 Defenders Of The Faith, 1/3 Painkiller and 1/3 Angel Of Retribution, blended them all together the result would be Redeemer Of Souls. So far, Redeemer Of Souls has my vote for album of the year. What a stunning effort!
Categories: Album Reviews