| | |
| --- | --- |
| Posted on July 29, 2014 at 12:55 AM | |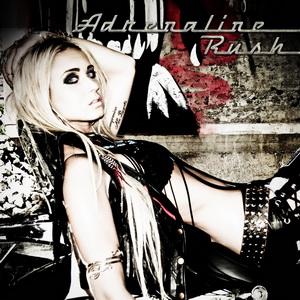 Adrenaline Rush – Adrenaline Rush
Written by The Rock Man
The hard rock world is about to be turned on its head by a new exciting five piece band from Sweden. Boys, girls and rock fans of all ages, introducing… Adrenaline Rush.
So to bring everybody up to speed, Adrenaline Rush is the creation of singer Tave Wanning who enjoyed some success as one half of the bubble-gum teen pop duo Peaches. Now I have no idea how you go from disposable pop to hard rock but I am glad she has made the transition. Perhaps she could no longer contain the rocker inside herself and needed to fulfill a burning desire. In any case she has hand picked the rest of the band which includes Ludvig Turner and Alexander Hagman on guitars, Soufian Ma'Aoui on bass and Marcus Johansson on drums, the final result is this outstanding new act.
Their debut self titled album, which was produced by Erik Martensson of Eclipse and W.E.T. fame, features 11 cuts that oozes 80's style hard rock and attitude. If they had been around during the 1980s they would have been massive on MTV and had heavy rotation on radio everywhere. The opening track is Black n' Blue and right from the word go their full arsenal is on display, crunching melodic guitar riffs, foot stomping drum beats, well executed harmonies and Wanning's solid vocal attack. Change is the first single and video from the record and is an excellent choice to showcase what this band is about. The guitar riff at the beginning reminded me a little of Kingdom Come's Do You Like It, but from then on it is all Adrenaline Rush. Generation Left Behind is the first of many songs that feature a recurring theme of going after what you want in life and having no regrets, while Girls Gone Wild is about as close to Motley Crue as you can get without actually being Motley Crue.
When We're Gone is the album's only mid-tempo ballad which again touches on the no regrets philosophy as do the following two tracks Want It All and Too Young To Die. Both are very heavy on the Danger Danger/Trixter/Crazy Lixx flavour. Rounding out the album is Playing To Win and Hit You Like A Rock which brings the album to a close with the same energy and ferocity which it began. Tave Wanning will no doubt be a big talking point of this band and from what I have seen of her she strikes me as the closest thing to a female version of Vince Neil or Bret Michaels. Yes, Wanning is a pretty young blonde girl out the front and while that is important, if you want to sell product it is certainly no substitute for talent, which this group has in bucket loads.
There is no doubt that the band has a strong energetic youthful enthusiasm about it which shines through on all of songs on the album. This band has enormous potential but potential at the end of the day is just a word. What Adrenaline Rush need to do is take advantage of this opportunity they have before them and carve out for themselves a long lasting legacy. Their debut album has certainly put them on the right path to achieve that.
Categories: Album Reviews