| | |
| --- | --- |
| Posted on February 8, 2014 at 10:20 PM | |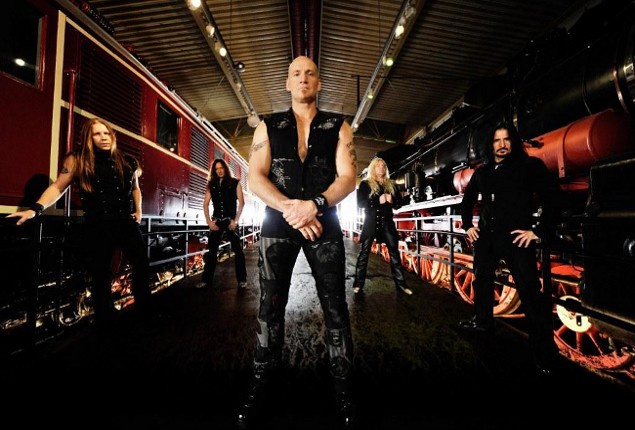 Since 1997 Germany's Primal Fear have delighted metal fans the world over with their melodic brand of power metal. With each release the band continues to go from strength to strength severing up classic metal masterpieces such as Primal Fear, Black Sun, New Religion, 16.6 (Before the Devil Knows You're Dead) and Unbreakable. Now comes their much anticipated 10th studio album Delivering The Black and the band are very excited about this new project, so to find out what all the hype is about I caught up with Primal Fear frontman Ralf Scheepers for a chat about the new album, the band's development and his working relationship with Pamela Moore.
Rock Man: Congratulations on all you have achieved with Primal Fear over the years, you must be very happy with were the band is at the moment and the new album Delivering The Black?
Ralf Scheepers: Absolutely, yes I mean, everybody is really happy about the new album, the new effort is really amazing, you know? any musician always says it is the best effort so far, but it is, it is true it is not a lie. So the reviews and press reaction is really great feedback, so it is just amazing and everybody is looking forward to going on tour, it is all great at the moment.
RM: In your mind what makes Delivering The Black different from past releases?
RS: You know, the thing is it is not that different, it is just our style and it is basically one more [laughs]. So even if you talk about songs like the epical One Night In December it is something we have achieved already on albums like Seven Seals and New Religion as well, it is just another, sound wise it is just another level and also performing wise from each member in the band it is just a phenomenal effort what they did, everybody from Randy [Black] to Alex [Beyrodt] to Magnus [Karlsson], Matt [Sinner] and me. We really sat down and said this has to be the one where everybody is satisfied with every single note on it, with every single tone on it and with the sound in the end and that is why Matt and me flew up to Denmark and did the whole mix with Jacob Hansen. We were sitting there, had our ideas in mind of how it should sound like and the guy just did it without our input so much, of course, here and there with levels and sounds here and there, but he did everything just like we wanted to hear, just amazing.
RM: So were there any challenges in making this album or did it all come together pretty smoothly?
RS: Absolutely, yeah I mean, let alone the demo phase was amazing, but Matt and Magnus they basically wrote a lot of songs and then sent me some stuff for me to find some lyrics and melodies on my own and then Matt came to my house and we just found something together, some phrases here and there and Alex and Magnus were working on the guitar and everything worked out perfectly. I just need to repeat myself, it is just a great effort this time.
RM: The first single from the album is When Death Comes Knocking, what has been the general reception to that track?
RS: If you just look at YouTube you can see the feedback, everybody is pleased about it of course, the song somehow stands out a little bit, it is a more mellow track, I mean it is not a ballad, but you know? we just chose that song because it has a great rhythm to it, we imagined people in a bar or a club banging their heads or playing air guitar to it and it has a great groove. Also the melody is catchy that is the reason why we chose this one, but 75% of the album is up-tempo songs so it is not really the one which shows the direction we are going. But we wanted to choose that because of the beat we have and the melody of the song.
RM: Can you tell me a little bit about some of the other tracks from the record such as Alive & On Fire, One Night In December and Inseminoid.
RS: Yeah, Alive & On Fire is also a very groovy song, reminds me a little of Running In The Dust so we have got that rock and roll/heavy metal feeling there and that is what we wanted, then One Night In December is another epic track which never gets bored when you listen to it, you know?, it is 9 minutes, you could think "Oh, Jesus Christ it is so long" and "What the hell?" but if you listen to the track it is not getting boring and it is not that slow, we have very fast verses and then again, the melodic mellow chorus, everybody has their own taste and I think we hit the nerves of our fans, absolutely. Inseminoid was the Nuclear Fire phase back, so we wanted to have this vibe back again, so that is what we did in Inseminoid it is melodic, up-tempo song, I think it is 200 beat per minute, not quite sure, it is a fast song again with melody.
RM: What are some of the things that you find the most inspiration from when writing a song or album?
RS: You really get those things out of your head, your life experiences is a lot in the album, so about relationships, about divorces, feelings, pain, and also about politics here and there, not to be too serious about it, not to be too obvious, just bitching about it [laughs] and sometimes you have those warrior scenes as a metal band. So we do not want to write shitty lyrics, there is always a sense behind it, somebody had his ideas behind it, we want to say something of course too, so listen to the lyrics too, not just the music.
RM: You have had a long working relationship with bassist/songwriter/producer Matt Sinner, you must feel very blessed to have him in your corner?
RS: Absolutely, there is no doubt about it. We have grown together over the years, not only that he is my partner in business with Primal Fear, when we are owning the company, there is a lot of trust going on and that is a major thing, when it comes down to friendship as well, so we can really separate and divide personal and business topics. So that is amazing, I really get along well with Matt and you can always trust his opinion because he is always the guy that has been working the business for many, many years collecting knowledge and experience, just as myself too, so we just add up together as a good team.
RM: The other members of the band, Magnus, Alex and Randy all put in blinding efforts on this new record as well, it must be great to have such talented musicians behind you?
RS: There is no doubt about that and that is the reason why this album is so good now, everybody is the master on his instrument. What Randy [Black] did, I mean, I'll tell you once again the demo was good already but it was programmed drums, I thought "How the hell should Randy do this?" [laughs] then Randy came to … laid the whole album in 5 days and I was simply blown away. What this guy is doing on his drums is simply amazing and you talk about everybody, Magnus is the riff monster, a great lead guitarist, Alex with his feeling, also a great guitarist, so we have the best team together, absolutely.
RM: Back in 2009 you teamed up with Pamela Moore to record an album under the banner of Solna, that was a brilliant record and recently you appeared on her latest solo album, have you spoken to her about revisiting Solna to record another album?
RS: No, the Solna thing was just a project thing we were doing and she was contacting me and asking me if I could do something, I cannot remember his name, the head behind Solna, contacted me of course and then we did this song together, a duet, and Pamela was joining us on our U.S. tour, she did Fighting The Darkness with us on stage, it was just great, she became a great friend and I just spoke to her a few weeks ago, she is now going on tour, as well, in the U.S. and maybe we just join some shows together when we are over there again. The recording we did together, I mean, I just did her a favour because I owed her a lot she did everything for us in The States and I thought sometimes you have to give a little bit back in your life too.
RM: Do you see yourself recording any more solo albums or is Primal Fear your No. 1 priority?
RS: Primal Fear is always the No. 1 priority, of course, the solo album was just a one piece thing which was just an idea the record company made at me and never say never that we are going to record again, but this year is way to busy to do something. I am also singing for other bands, they send their tracks in and ask me if I can do a part or a duet with them and I just check if I can do it, time wise, because that is part of my business too.
RM: In terms of your voice, what exercises or routines do you go through to keep it in top shape?
RS: That is what I do nowadays, I was not doing it when I was a kid, just went on stage and did it, of course in the studio you always warm up here and there a little bit, it is just the way you do it and since I am teaching on my own now I am repeating those exercises that I give to my students and doing it here and there. In the morning, already when we are on tour, it is just breathing tempo and also noise and volume in the afternoon to get my voice working in the evening. Because as you can hear on every album and also live, I am screaming very loud and this has to be prepared and warmed of course, you cannot do it, just like a sportsman you cannot do it from zero to hero, you really have to warm up and go for it.
RM: What are your touring plans going forward for the next year or two?
RS: Many, many plans. So we are going to the European tour for 3 weeks then we are having a small break of 3 weeks and then the Rock Meets Classic event which is amazing, because you will have Alice Cooper and several others, the great names of rock history and then we come back and charge the batteries then we head to the U.S. for a 4 week tour from East to West, come back and charge the batteries again, do the summer festivals, then fly to South America and I can tell you that everybody is looking forward to coming to Australia for the very first time. This will be around September/October, there is also negotiations going on with Japan.
RM: Once again, congratulations on the release of Delivering The Black. On behalf of everyone here at Full throttle rock I would like to wish you and the band all the best for the future.
RS: Thank you very much Rock Man.
For more band information and tour dates visit the official page at www.primalfear.de
Primal Fear - Delivering The Black is available on Frontiers Records.
Categories: Interviews