| | |
| --- | --- |
| Posted on November 5, 2013 at 7:25 PM | |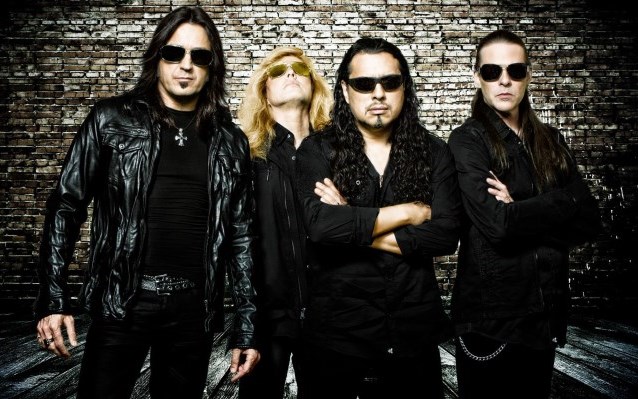 STRYPER's cover version of "Jesus Is Just Alright", a gospel song written by Arthur Reid Reynolds, can be streamed using the SoundCloud widget below (courtesy of Ultimate Classic Rock). The track comes off the Christian hard rock band's new album, "No More Hell To Pay", which will be released on November 5 in North America via Frontiers Records. The effort will be made available in two formats — standard CD and deluxe digipak featuring exclusive video content. Produced by STRYPER guitarist/vocalist Michael Sweet himself, the set features some of STRYPER's strongest and heaviest material ever.
"Jesus Is Just Alright" was first recorded by Reynolds' own group, THE ART REYNOLDS SINGERS, on their 1966 album, "Tellin' It Like It Is". It was later covered by THE BYRDS and THE DOOBIE BROTHERS.
Asked what made STRYPER want to cover this particular song, Sweet told Ultimate Classic Rock: "We wanted to do a cover on this album. We've done covers through the years — obviously, we did an album of covers [2011's 'The Covering'] most recently.
"When we look for covers, it's kind of like VAN HALEN did with 'Dancing in the Streets'. People were, like, 'What the heck?' We look for songs that are a little more unique that people might not expect us to cover.
"The part of that song that people would, of course, expect are the lyrics and the lyrical content. I mean, it's right down our alley. But musically, it's a little bit different for us, and that's what made it intriguing and interesting to do.
"We enjoyed doing that song and we always loved THE DOOBIE BROTHERS' version.
"We kind of stayed on the same path in terms of the arrangement, but did our own little STRYPER spin as well."
"No More Hell To Pay" track listing:
01. Revelation
02. No More Hell To Pay
03. Saved By Love
04. Jesus Is Just Alright
05. The One
06. Legacy
07. Marching Into Battle
08. Te Amo
09. Sticks & Stones
10. Water Into Wine
11. Sympathy
12. Renewed
From: http://www.blabbermouth.net/news/strypers-cover-version-of-jesus-is-just-alright-available-for-streaming/#RFZHy8AqBmPxRLYi.99
Check out the stream here:
http://www.blabbermouth.net/news/strypers-cover-version-of-jesus-is-just-alright-available-for-streaming/
Categories: News