| | |
| --- | --- |
| Posted on June 30, 2013 at 3:15 AM | |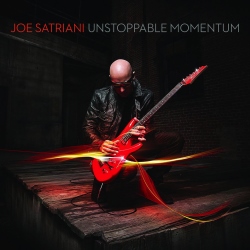 Joe Satriani – Unstoppable Momentum
Written by Dave Smiles
After thirteen studio album does Joe Satriani have anything left to prove? Not at all. So it comes as no surprise that at the age of 57 the guitarist seems to be making music for his own enjoyment; enjoyment that is infectious to the listener.
The new album, Unstoppable Momentum, is not intended for your average metal head. Rather than heavy riffs and shredding you'll find much boogie riffs and tasteful phrasing. The album will propel you into a future filled with various moods and challenges. While it propels you on your journey, there's no anxiety of what will be, but rather allows you to live in the moment. With a running time of 44:58 it doesn't overstay its welcome.
Satriani's playing still sounds fresh. His work with supergroup, Chickenfoot, no doubt keeping him inspired, as does his evident love of music. While being a master of the guitar, it's clear he still seeks to discover more within its strings. The unstoppable momentum is that he's always seeking to push the boundaries of musical knowledge and to bring musicians and audiences together though good music and good times. There is an overwhelming feeling of optimism throughout the album, meeting the occasional obstacle before continuing on our journey. It's a rare combination of feeling laid back and excited within the heavily melodic compositions.
Shine On American Dreamer displays some very passionate guitar playing. Who said virtuoso guitarists were all technique and no emotion.
While the expected technical guitar prowess is ripe throughout the album, it's tasteful, moderate and in touch with the songs. New comers to the Satriani band Vinnie Colaiuta on drums, (from Frank Zappa and Jeff Beck fame) and Chris Chaney on bass (Slash and Jane's Addiction) have various chances to shine, as does returning Mike Keneally on keyboards.
The fun thing about instrumental music is you can take whatever emotion the musician is trying to impart and create your own story. In my case, this album took me to an intergalactic burlesque show in Three Sheets to the Wind, cruising along a beach road during A Door Into Summer and being caught in Super Mario Land in The Weight of the World. But of course these are just what comes to my mind. Sit back and let Satriani into your mind and see what you'll be able to conjure up.
Categories: Album Reviews