| | |
| --- | --- |
| Posted on June 30, 2013 at 3:10 AM | |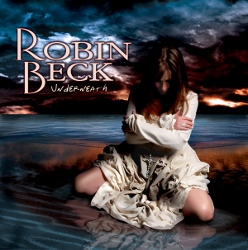 Robin Beck – Underneath
Written by Juliano Mallon
The mighty Robin Beck is back with "Underneath", her upcoming album due August. It's been two years since "The Great Escape", an album that already showed us Ms. Beck's music leaning towards a blend of AC Rock with melodic rock elements, and "Underneath" walks down the same path. But expect no "more of the same".
Right during the first hearing I was blown away by "Wrecking Ball", "Sprain" and "Ya Can't Fight Love", all powerful guitar-driven rockers with excellent arrangements and explosive choruses. Full volume and open windows to listen these songs, please!!!
And with "Underneath" and "I Swear The Nights" we walk in the romantic department with these two heart-shaking ballads where Robin delivers amazing performances, just like James Christian did in "Burnin' Me Down",a powerful duet that is one of the highlights of the album.
Plus, "Underneath" features two covers: "Ain't That Just Like Love" was originally recorded by Fiona back in 1992 and it gets an update with no room for 'modernisms', showing undenieable respect for the original version. And this respect becomes evident again in the powerful rendition of the Glen Burtnik's 1987 classic "Follow You". Oh, and Mr. Burtnik played guitars in this track. How cool is that?!
In a nutsheel, my dearest rock lovers, "Underneath" shows Robin Beck in great shape, with a very consistent album filled with excellent songs and very well-defined muscial identity and approach.
In comparison with "The Grear Escape", Robin's new album sounds better in many aspects and I can already see (and hear) her in an upward curve.
"Underneath" will be released on August 12th in the U.K. and three days later throughout Europe via HMMR Records/ Cargo Records.
Categories: Album Reviews