| | |
| --- | --- |
| Posted on June 27, 2013 at 8:40 PM | |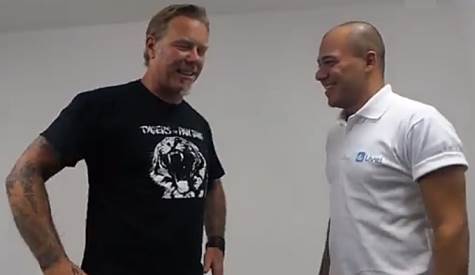 When METALLICA came to Abu Dhabi, United Arab Emirates in 2011, Basel Anabtawi, the self-proclaimed No. 1 METALLICA fan, campaigned to meet his idols and the concert organizers stepped in and gave him an experience to remember. This year, they went one better and set up a call between Basel and METALLICA's lead guitarist Kirk Hammett ahead of the band's April 19 show at du Arena in Abu Dhabi. In addition, Basel was able to sit down with METALLICA frontman James Hetfield prior to the concert for a 10-minute one-on-one interview. You can now watch the chat below.
In an interview with GulfNews.com, Hammett stated about the band's return to United Arab Emirates: "I had no idea [how important the 2011 show was]. But once we got to Abu Dhabi, we realised that we were playing to a fan base that was untapped — there were people from Lebanon, people there from Iraq, people from Iran… from all over the Middle East. Places we never expected we'd go to — ever.
"It was important for us to bring our music to these people who have probably waited all their lives for us to come. We were quick to jump on the opportunity to come again, and bring the music back here."
Speaking of his first time in the region, Hammett revealed that he just did what any visitor would do.
"I was a total tourist," he said. "We had a couple of days off, and we spent it doing pretty cool things, including going to the desert and riding a camel. I didn't get the chance to see as much of the city as I wanted to, but I am really hoping to do so when we're back. I was very impressed by it though."
From: http://www.blabbermouth.net/news.aspx?mode=Article&newsitemID=191815
Watch the interview here:
http://www.youtube.com/watch?v=zIDmoZMM4R0&feature=player_embedded
Categories: News