| | |
| --- | --- |
| Posted on June 24, 2013 at 8:40 PM | |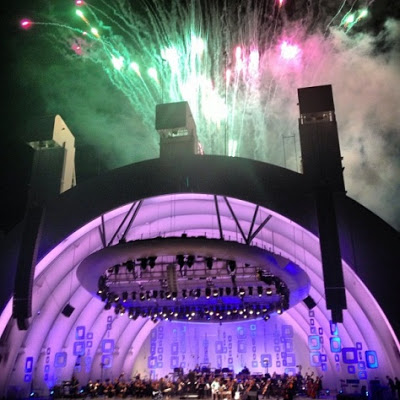 Aerosmith's Steven Tyler and Joe Perry were inducted into the Hollywood Bowl Hall Of Fame on the opening night of the Bowl's 2013 season on Saturday.
Inducted by actor Peter Fonda, Tyler and Perry then joined the Hollywood Bowl Orchestra to perform a series of Aerosmith hits, including "Love In An Elevator," "Walk This Way," "I Don't Want To Miss A Thing" and "Dream On."
Other inductess included John Legend and Patti Austin.
Proceeds from the event benefited the Los Angeles Philharmonic and its music education programs, which reach more than 120,000 children, teachers and adults every year.
Tyler, Perry and Aerosmith first appeared at the Hollywood Bowl in May 1999, with subsequent appearances in 2002, 2006 and last year's sold-out concert.
The Hollywood Bowl has been home to musicians, conductors, singers, dancers, actors, and composers of the highest caliber since its beginnings in the early 1920s.
Founded in 2000, the Hollywood Bowl Hall Of Fame celebrates those consummate creators and performers, who, through their talent and effort, have established themselves as true superstars — with appearances on screen, stage, recordings, and at the Bowl — whose contributions to the arts have made them part of the fabric of American culture.
From: http://www.hennemusic.com/2013/06/video-aerosmith-members-inducted-into.html
Check out the video footage here:
http://www.youtube.com/watch?v=JV0dy8w-vyk&feature=player_embedded
http://www.youtube.com/watch?v=C4lU3NA0pio&feature=player_embedded
http://www.youtube.com/watch?v=Jeof310DBU0&feature=player_embedded
http://www.youtube.com/watch?v=PfyFxhMy6Sg&feature=player_embedded
http://www.youtube.com/watch?v=V82qN75u1mU&feature=player_embedded
Categories: News