| | |
| --- | --- |
| Posted on June 24, 2013 at 4:50 AM | |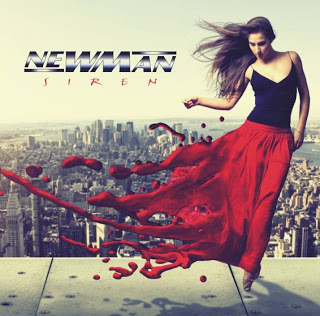 Newman – Siren
Written by Juliano Mallon
Steve Newman is well-known in the universe of good sounds and every time the band that holds his name announces a new album it catches the attention of AOR.Melodic Rock enthusiasts around the world. And this phenomenon repeated itself when it was announced that "Siren" would hit stores next month, two years after his latest studio album. And it was well worth the wait.
Keeping intact all elements that identify Newman's sound since the 90s, "Siren" delivers 'in your face' guitars perfectly balanced with well-distributed keyboards everywhere, creating catchy melodies, powerful hooks and memorable choruses.
And it becomes very clear in the outstanding "Scar of Love" and "Had Enough", both killer album openers that give the listener a good idea of what's to come from then on. High-quality right from the start is a good thing, and you have this sensation again when listening to other powerful songs such as "Another Bitch Of A Night" and "Feel Her Again", the latter featuring guitars by Robert Sall.
And how about "Arcadia", one of the best mid-pacers in the whole Newman discography, with its heavy bass and discrete keyboards and guitars tagging along??? Pure melodic rock bliss. And there's also "The Foolish One", a heartbreaking power ballad where Mr. Newman delivers one of his best performances on this album.
I'm sure future spins will make me mention more songs, but be as it may, I can easily state that "Siren" is one damn solid effort with a tight tracklist and soaring performances. If you're already familiarized with the band, you'll have a pleasant surprise in knowing that Newman kept all the best elements of their music intact. And if you don't know them, here's an excellent opportunity and a great start.
The excellent "Siren" will hit stores on July 19th, via AOR Heaven.
Categories: Album Reviews