| | |
| --- | --- |
| Posted on June 24, 2013 at 1:30 AM | |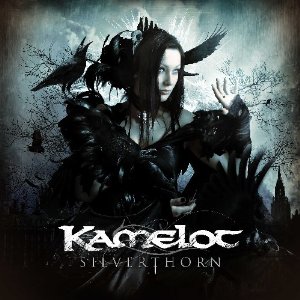 Kamelot – Silverthorn
Written by Elle Haus
Kamelot's 2012 release, Silverthorn, is the band's first album with new singer Tommy Karevik (Seventh Wonder) after Roy Khan left the band in 2011 and the band does not disappoint. They have raised the bar even higher on this release, taking us on an epic musical journey with rich vocals, heroic scores and deep musical compositions.
Many fans were concerned about what a post-Kahn Kamelot would sound like, but they needn't have worried – Karevik's vocals are a perfect fit for the Kamelot sound, preserving the overall integrity of the band and delivering an unforgettable performance. Matched with the familiar master guitar work from Youngblood and the quick-footed Grillo with his blistering double-bass drumming, Kamelot takes the listener on a powerful and memorable musical expedition, weaving a haunting tale or love, loss and redemption.
Silverthorn, the band's tenth studio album, tells the compelling story of a young girl, Jolee, whose twin brothers witness her tragic accidental death. The story is told in "first person" by one of the brothers as he is forced to deal with the secret behind her death and the consequences of his and his brother's ill-fated choices. Despite being a concept album, these tracks work perfectly fine individually, which is impressive.
Ashes To Ashes is one of the edgiest and fastest songs on the album, a truly hypnotic track.
Silverthorn's magnum opus is without a doubt the almost nine minute Prodigal Son. Emotionally powerful with its haunting choral singing, taking a frenzied turn to aggressive instrumentation as it reaches its climax.
The melancholic ballad Song For Jolee perfectly showcases the magic of Karevik's vocal ability, proving he perfectly fits the big shoes left behind by Kahn.
The sweeping cinematic choruses, heavy guitars and vocal brilliance of Kamelot's Silverthorn will thrill and entice new listeners, as well as leaving all fans in awe of another epic masterpiece.
Categories: Album Reviews