| | |
| --- | --- |
| Posted on June 23, 2013 at 8:45 PM | |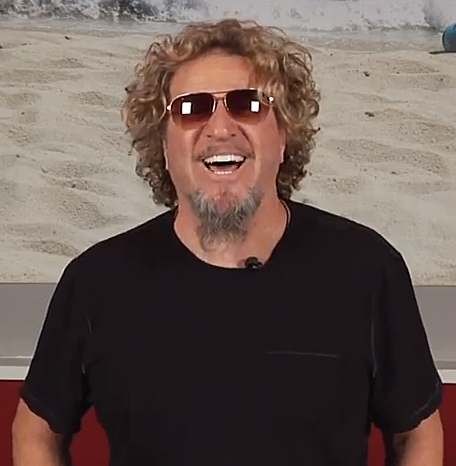 Rockin' Rag has posted a video interview and music sneak preview with legendary rocker Sammy Hagar and WDHA's Terrie Carr from Sunset Sessions 2013 in Carlsbad, California. Check it out below.
RED HOT CHILI PEPPERS drummer Chad Smith and former VAN HALEN bassist Michael Anthony recently spent time in the studio with Sammy Hagar, where the Red Rocker worked on a new album. The three musicians, of course, comprise three-fourths of the lineup of CHICKENFOOT, although they apparently did not make a new CHICKENFOOT record. Joining them on guitar was Neal Schon of JOURNEY, who also played with Hagar in the early Eighties act HSAS.
Hagar told The Pulse Of Radio a while back why he liked playing with Smith. "Chad just brings a certain amount of intensity with the way he plays that I've just never been in a band with a drummer like that before," he said. "He's like Keith Moon with John Bonham's foot, you know, or something. I don't know what to call him. He's Chad Smith."
In a clip posted online, Hagar called the current group of musicians a "new and improved" version of HSAS.
The initials of the four musicians' last names also happen to spell out HSAS. The original lineup of that act, which issued one live album in 1984, featured Hagar, Schon, Kenny Aaronson on bass and Michael Shrieve on drums.
CHICKENFOOT, which also includes guitarist Joe Satriani, has released two albums, 2009's self-titled debut and 2011's "Chickenfoot III". Drummer Kenny Aronoff replaced Smith for touring purposes in 2011 when Smith had to return to duty with the RED HOT CHILI PEPPERS.
From: http://www.blabbermouth.net/news.aspx?mode=Article&newsitemID=191667
View the Sammy Hagar Interview and Music Sneak preview here:
http://www.youtube.com/watch?feature=player_embedded&v=G6a8hwv2M30
Categories: News