| | |
| --- | --- |
| Posted on June 23, 2013 at 8:40 PM | |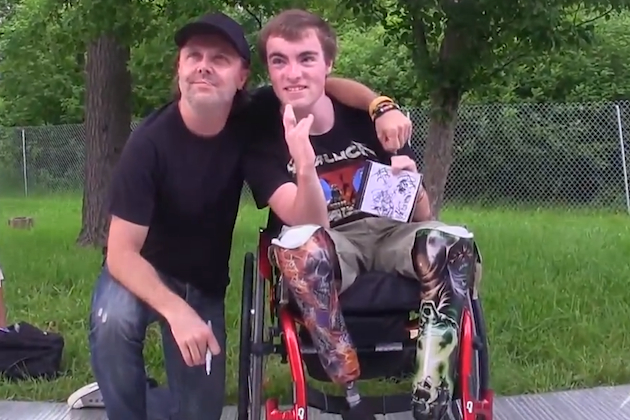 Metallica drummer Lars Ulrich has been called every name in the book, both positive and negative, since Metallica began thrashing in 1981. However, even Ulrich's biggest critics couldn't possibly slam him after watching a recent interaction between the drummer and a disabled Metallica megafan during the 2013 Orion Music + More Festival.
During a festival meet-and-greet, Ulrich walked up to a wheelchair-bound fan with the most "heavy metal" prosthetic legs ever. Beginning at around the 3:20 mark in the video below, Ulrich spoke to the fan, who also is an aspiring drummer, for a good while before signing one of the young chap's prosthetic legs. As an even greater act of kindness, Lars even invited the fan to hang out onstage with Metallica so he could see Ulrich's drumming up close and personal.
The video posted on Metallica's official YouTube page also features the band practicing 'I Disappear' in their tuning room and performing 'Carpe Diem Baby' and 'The Day that Never Comes' live during the Orion Music + More 2013 festival.
In other Metallica news, Lars Ulrich recently spoke with Rolling Stone about Metallica's eventual follow-up to their 2008 full-length, 'Death Magnetic.' "I understand there are people waiting for a new rec¬ord, and so are we," drummer Lars Ulrich tells Rolling Stone. "But I can't stress about it. It's not like, 'F—, hurry up and get this record out.' Hurry up for what? So we can go play gigs? We already play gigs. We'll get there." Ulrich goes on to reveal that Metallica currently have around 600 riffs recorded and ready for future experimentation.
Metallica are currently booked to play a handful of 2013 international dates, but you'll still be able to see the iconic thrash band in the upcoming 3D film 'Metallica Through the Never,' which will hit IMAX screens on Sept. 27 and traditional theaters on Oct. 4.
From: http://loudwire.com/metallica-lars-ulrich-touching-meeting-disabled-fan-talks-new-music/
Categories: News