| | |
| --- | --- |
| Posted on June 23, 2013 at 8:20 PM | |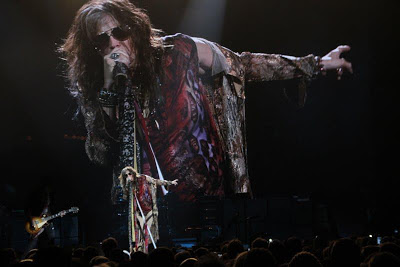 Aerosmith frontman Steven Tyler has revealed plans to work on his first solo album in the new year.
"I had a lot of fun doing [the 2011 solo single] '(It) Feels So Good'…I wrote that with Marti Frederiksen," Tyler tells Rolling Stone. "I've got this itch in me to do a solo record, and that's what I'm gonna do next. I've got some great people that want to get involved in it. It's early on right now, but that's the itch I got. I got that itch to do something that's a lot different than Aerosmith. Aerosmith's never been better, but we did that album [2012's 'Music From Another Dimension']. This last album was an Aerosmith all-for-one-and-one-for-all. But my heart is in stuff like that weirder, off-the-cuff stuff that I'm not sure Aerosmith would like. I'm into electronica – I was when I used to listen to Stockhausen in '65. So there's just a lot of stuff – good, weird f***ing music that I want to get off my chest. The band will be playing, and we're going to China and Singapore. It's gonna open up a whole new world for Aerosmith. So Aerosmith will always be around, but I got this itch and I know how to scratch it."
Asked who he might work with on the project, Tyler says "There's so much good stuff out there. I am a huge Skrillex fan. I went to lunch with Deadmau5 at Mel's Diner. He's got incredible ideas for his next tour – blew me away, what he's gonna do. He's a single guy. He makes all the money himself when he puts the mouse head on, so he's got a ton of money. He knows where to take it, and he's still relevant. So it was a sick dinner, it was f***ing unreal. I want to go out and explore things . . . I really want to take a little risk here and do something solo. There's no timeline – I'm gonna start in January and see where we get by March."
Tyler and Joe Perry will be inducted into the Hollywood Bowl Hall of Fame this Saturday.
From: http://www.hennemusic.com/2013/06/aerosmith-steven-tyler-to-record-solo.html?m=1
Categories: News