| | |
| --- | --- |
| Posted on June 20, 2013 at 6:25 AM | |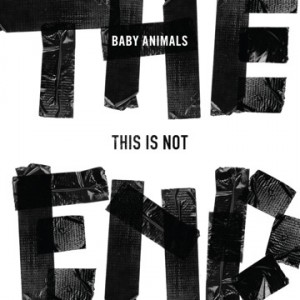 Baby Animals – This Is Not The End
Written by Ben Hope
When the Baby Animals released their debut self-titled album it spent six weeks at number one and the next decade as the highest selling Aussie rock record.
As a household name the Sydney four-piece toured with Van Halen, The Black Crowes, Robert Plant and Bryan Adams.
That was more than two decades ago.
The band called it quits in 1996 until regrouping more than a decade later for a mildly-successful acoustic greatest-hits album and tour.
This Is Not The End is the band's first offering of original tunes in 20 years and in many respects it's either a new beginning or a final end for the Baby Animals.
Suze DeMarchi and Dave Leslie did most of the heavy lifting - backed by a clinically-tight Mick Skelton on drums and Dario Bortolin on bass. Founding rhythm section of Eddie Parise and Frank Celenza split not long after the 2008 reunion, citing internal conflicts.
They kick-off with the scathing modern take on a break-up, Email - mixed by Nick DiDia, best known for his work with Powderfinger. Like much of this album it's heavily influenced by DeMarchi's split with Extreme guitarist Nuno Bettencourt.
But far from the iconic sounds the band hit in '90s, it sets the scene for an anachronistic tribute directed at a legion of die-hard fans.
This was where a little perseverance pays off. Skip past Email and the jumpy-yet-predictable Bonfires and the crew steps up and begins to find their feet again.
The bitter break-up takes a back seat for the introspective Invisible Dreamer and brutally honest Under Your Skin, as DeMarchi returns to show us the voice that can still sell platinum albums.
Leslie's bluesy-yet-rocking guitar style adds even more appeal as he's given free-reign in Warm Bodies and the harder-rocking Got it Bad. Proving himself a team player Leslie holds back just enough to clear the room to let DeMarchi's pipes do their magic.
This Is Not The End has been described by the band as an album for the whole family, and in many ways it is.
From straight-up rock tracks and Winter's Day to power-pop Stitch and brooding ballads Priceless and Things That Make You Stay, this album draws a long bow.
Perhaps it'll pay off. The band is back on the ARIA charts at number 19.
So is this a beginning or an end for the Baby Animals? It's hard to say. But it did send me back to listen to their old stuff, and that can't be a bad thing.  
Categories: Album Reviews