| | |
| --- | --- |
| Posted on June 20, 2013 at 5:25 AM | |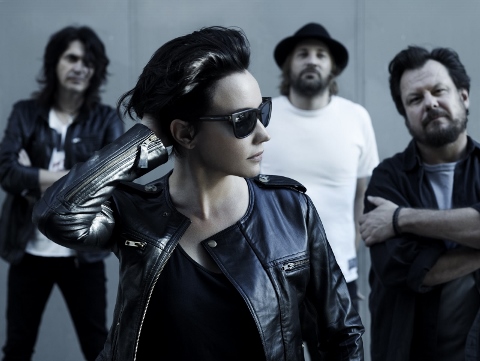 During the early 1990s there were a number of outstanding new Australian rock bands around such as Roxus, The Screaming Jets and Chocolate Starfish. And at the forefront leading the charge were the Baby Animals. Then the music scene seemed to change overnight and they were no longer there. Twenty years later the Baby Animals have returned with a stunning new album, This Is Not The End. I wondered if the return of the band would ignite a resurgents of great Aussie rock bands, so I caught up with front woman Suze DeMarchi to discuss the band's return to the spotlight and the new record.
Rock Man: Congratulations on the reformation of the band, you must be thrilled to have a second chance at continuing the journey you started with this band back in 1989?
Suze DeMarchi: I am actually, I'm very grateful that we have such really great loyal fans that really allow us to do it, without them we could not really keep playing. And it is good to be back in Australia, and you know, keep it all going. It is very difficult writing from different continents.
RM: What was the catalyst for getting the band back together?
SDM: I think it was probably that we did the acoustic album for Liberation about four years ago, Dave and I did that over in L.A. with Justin Stanley and it was just a great process and we did it really quickly and then we had to tour that, so we thought we'll put the band back, see how it goes and do this shortish kind of tour. And then we went from there pretty much, we didn't stay with Eddie Parise and Frank Celenza because it was pretty clear early on that it was not going to work out, but Dave and I just continued to write and then I moved back about two and a half years ago and we have worked pretty solid on it from there.
RM: You've made a minor line up change with the inclusion of drummer Mike Skelton and bassist Dario Bortolin, can you tell us how they entered the Baby Animals frame and what qualities they bring to the band?
SDM: Well Mick we have been playing with for about four years or so, three and a half, four years. He had worked with Dave before and you know what he is just, apart from being a great drummer, he is just a really positive guy to have around and he is very keen and he is so "nothing's a big deal, nothing's a problem", he is always available he just really wants to do it. And that is great energy to have around and I love the way he plays, he reminds me of Mick Fleetwood a bit. And Dario, we have known Dario for years and we were sort of in between bass players and we needed to ask someone to fill in and we thought Dario and we just did not want to let him go. We played one show with him and we thought this is so great, you know, do you want to join? And he was like okay. He was playing with Jimmy Barnes at that point, we had to tear him away from Barnesy. I don't know if Barnesy was very happy with it [laughing].
RM: Congratulations on the release of the new album, This Is Not The End. You must be proud of the final result?
SDM: I am very proud of it, it was a great record. It was a fun time, it was a difficult time, emotionally I was going through divorce, Dave was going through his own stuff, it was really great to have it as a distraction. But because I guess it is the best outlet for any kind of experience you are going through, it is really nice to have an outlet like that. So we did a lot of pre-production, we recorded a lot of it live, I think Email was practically one take, and that was what we wanted to do was capture the whole live thing. I'm very proud of it, I'm very happy with it and I really enjoy playing those songs live.
RM: What I like most about this record is that it's a solid Baby Animals record, you're not trying to reinvent the wheel here. It makes the statement - we're back, this is who we are and this is what we do. Nothing more, nothing less.
SDM: Wow, that is good, thank you. I think that is kind of it I think really. We can not be anything other that what we are, and we can not write anything other than the honest, sort of, um, music that we, it just comes out naturally and I think Dave inspires me, I love the way he plays and that combination is what you hear because I really could not do it without him.
RM: On This Is Not the End there are a number of traditional Baby Animal style rockers such as Under Your Skin, Got It Bad, Email and Bonfires, while there are also some more lighter moments, like Winter's Day for example, and almost a country style twang on Warm Bodies. Was there a conscience effort to create something different from previous work or is this just how certain tracks evolved?
SDM: Yeah really how they evolved. I remember walking into the rehearsal room one day and Dave was playing this piece of music and it was very bluegrass, very bluesy, which was Warm Bodies. I said to him that is beautiful I love it and he was like, "ah nah", he was only joking, and I said no I really like it I've got the perfect lyrics for that, and so I sang this part to it and we just did it within that space of time, it was a quick writing session. Winter's Day was actually Dave's, he had written this real nursery rhyme sort of song and he was a little embarrassed by it and I said come on Dave you have got to play me everything and it was really like a little ditty, and it kind of still is, and I said I think it is beautiful. Originally it had whistling on it [laughing], I said Dave you might have to take the whistling off. So I just rewrote some of the lyrics and moved things around, but that is primarily Dave's idea.
RM: Things That Make You Stay and Email are two personally significant moments on the album, is that a fair assessment?
SDM: Yeah, yeah definitely. Email was the last track we wrote for the album, and I just kind of write whenever I'm in a bad mood or there is something going on I just tend to write stuff down because I think it is a really good way of releasing it from your mind so you don't fester on things. And they often end up in songs and that was one of those moments, where I was like, I have to get some stuff out. But yeah, I also don't feel that way about those songs anymore though, once they are out and they are finished and you are playing them live, I don't really get angry every time I play them live, they become something else, they become what they are to who ever is listening to it. Buy yes they were the most closely related to my marriage break up, yeah. You know, it worked for Adele [laughing].
RM: What has been the general response to the first single Email?
SDM: It was a bit tough getting radio play for that because it is quite heavier, we had some really great support from certain stations, you know, who were a bit heavy, but from the fans it has been really great and we consciously put that one out to be an all over representation of the new record. But the response has been great, it is funny though, people are now commenting on other tracks like Stitch and Warm Bodies and Under Your Skin, and Invisible Dreamer is one people mention a lot.
RM: At the height of your popularity in the 1990s you played with Bryan Adams, Van Halen and Robert Plant, that's some pretty impressive company. Do you have fond memories of those times and what did you learn from that that you still use today?
SDM: Ah, we had the best fun with all of them. Bryan Adams, we learnt a lot from every single one of them, but Bryan, I learnt to give 110% every show, he really blew me away as a performer. I think the whole Van Halen thing was a lesson on how to rock, backstage, not necessarily on stage, but that was just all over a sensory overload, and Robert Plant was just a gentleman and full of stories and an incredible singer. Being able to watch him every night and perform some of those amazing songs you just can not help but soak it all up.
RM: Looking back to your previous two albums Baby Animals and Shaved And Dangerous, what do you remember most about making those two records?
SDM: The first album was pretty thrilling. I remember preproduction with Mike Chapman, and he being like a commando, he was into a lot of preproduction and making sure all the arrangements were right. And just working at the legendary Bearsville Studio was thrilling. I just remember it feeling very positive the whole time we were in the studio on the first album, it was very light, but kind of intense time, those couple of months, it was amazing, a lot of hard work, a lot of late night sort of work but we all had the same sort of goal. The second album I think I was a little bit hesitant about going in so soon, we didn't have the songs finished, I was less sure about the people we had chosen to work with on that album, these are just some things that made me concerned. So it was a more difficult record to make, but we got through it and then this album, we did it local, we had a very strong idea of the songs we wanted on it, who we wanted to do it with, we didn't want to waste time we just wanted to get in there and give the best performance. So all three were very different experiences but it is a great feeling when you are finished.
RM: How have you seen the evolution of the music scene since the band's time in the mid 1990s?
SDM: Well, I think it was such an amazing thing to watch, really wasn't it? The way that piracy came in and the internet took over, everyone was afraid of piracy and how that would affect everybody, and it did affect everybody, it has changed things completely. But in another way it has given bands a tool to be able to get their music out themselves without having to do it through a major label. It has made major labels look at how much they were actually taking from the artist, it has kind of come full circle, the artist can control what they release, and they should have that control, you know. The whole thing with the industry now is manufacturing stuff, even more than it was in the 80s, when things were manufactured pop, now it is like a competition you have to win and you become what they want you to be, and those people who go on those shows are already signed to them before they win, so that is scary too. And then everyone has to, every time you turn on the radio that is all you here for the next year. But, um, it is a really good thing to have that control back, I think for the artist with the internet, direct connection with your fans, you can put out anything you want for them to hear and I think people like that as well.
RM: You came up through the ranks earning your stripes working clubs and bars so what do make of today's generation of artist that do it through reality TV shows like The Voice or X Factor for example?
SDM: Well, I mean, good luck to them. I think there is a place for everyone and I don't look at it as music that is TV, that is a TV show, so that is entertainment on that level, but I feel a little bit worried, oh not worried, I don't lose sleep over it, but I feel like what is going to happen to them when they have to play to one man and his dog and how are they going to handle that. They are the things you learn when you start out, you know, it is fighting for gigs and you learn your craft in your garage with your mates and you do all the years of slogging it out in pubs, you learn you have to do just as good a show for one person as you do for thirty thousand people. You have to learn all those things, it is a craft in itself. I think they might lack a little in the performance side of things and they have to learn real quick.
RM: No doubt you'll be hitting the road hard touring to promote the album, will that entail shows overseas or just here in Australia and what can fans expect to see at a Baby Animals show?
SDM: I hope we do some stuff overseas, we will go wherever this album takes us. We would really love to get back over to Europe and play and maybe some stuff in America. But we will definitely be doing a big national tour in Australia in October, we will be doing a lot of the new album and definitely some of the old stuff we really like playing still and you know, I think they will get what they expect from a Baby Animals show. It is pretty solid, pretty raw and songs you may know and some new stuff you might like.
RM: On behalf of everyone here at Full Throttle Rock Magazine I'd like to wish you and the band all the very best of luck for the new album and for the band going forward.
SDM: Thank you so much, I appreciate it.
Baby Animals – This Is Not The End is available through Social Family Records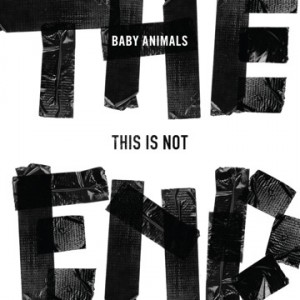 Categories: Interviews