| | |
| --- | --- |
| Posted on June 18, 2013 at 11:05 PM | |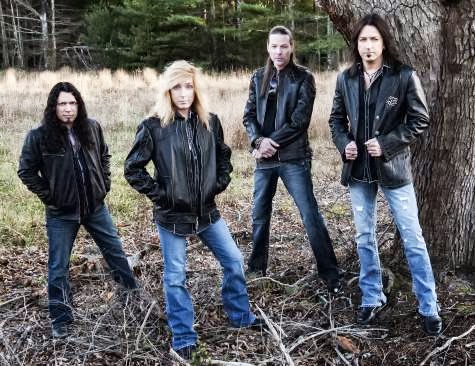 Spend a couple of minutes speaking with Michael Sweet, frontman of American heavy rock exponents Stryper, and you'll be convinced the band's creative fire is burning brighter than ever before.
Likewise, you'll believe that Second Coming is a more than apt title for their latest album and that the band's best is truly yet to come.
He speaks with such passion about it and the band's next album, No More Hell To Pay, that you can't help but feel excited.
''It's a good to time for us,'' Sweet said. ''I don't want to imply or use any terms like 'cashing in' or anything like that because it's certainly not about that with us. As a matter of fact, in terms of actual sales and numbers, it's not the good old days. But that's not why we do what we do. We do it for the love of it and our convictions and our excitement about what we do.''
Stryper made its official mark on the global music scene in 1984 with the release of debut album, The Yellow And Black Attack.
Visually, they mirrored a slew of fellow glam metallers – teased hair, jewellery, make-up and an abundance of spandex.
And musically, they were metal to their very last riff and wailing solo.
Lyrically, however, they shared little in common with their contemporaries.
Instead of celebrating the excesses of life, Stryper celebrated their Christianity. Each of their songs were a missive in favour of ''the way''.
While it didn't win the band the full support of the Christian community, it certainly offer the band a ready and captive international audience, one which saw them flourish throughout the 80s.
The original incarnation of the band, which also featured Sweet's brother Robert on drums, guitarist Oz Fox and bass player Tim Gaines, parted company in 1992.
Like many bands from the era, they reformed in the mid-2000s.
Again, this is where the Stryper story differs from the pack. Their's wasn't a tour-based money earner - it literally was the rebirth of a band that felt it still had something to say.
A new album, Reborn, saw light of day in 2005, with bass player Tracy Ferrie in place of Gaines. It was followed by 2009's Murder By Pride.
For the subsequent tour to celebrate the band's 25th anniversary, which included three Australian dates, Gaines returned to the fold.
The band's next output was 2011's The Covering, on which Stryper payed homage to songs from the acts that influenced them, like Iron Maiden, Judas Priest and Black Sabbath.
According to Sweet, this release marked a real step forward for the band.
''People really like that record and oddly enough for some reason, that's the record, moreso than Reborn and Murder By Pride, that kind of put us back on the map again,'' he said. ''I think what happened - if you read all the reviews on Amazon or iTunes and online - people were pleasantly surprised, like what the heck is this? Is this that Christian band and they're actually doing a somewhat decent version of Heaven And Hell [Black Sabbath]. Are you bleeping kidding me?
''And that's been kind of the reaction. I think people have just been surprised and it was an opportunity for us to say to the world, 'look, we're here, we've always been here and we can play'. If you just put aside the stereotype 'Christian' - oh, they're a Christian band - if you just put that aside for one moment and just listen to us, you know we can play, we can go and do festivals with any other band out there and hold our own. We've been doing it for a long time - we're a professional band.''
For new album, Second Coming, Sweet and band revisited material from their first three albums, re-recording 14 favourites and two new tracks, Bleeding From Inside Out and Blackened.
''We were thrilled to be able to do this record,'' Sweet said. ''We initially did it for ourselves and wound up kind of hitting a home run with it and thank God, the new versions turned out certainly as good as the originals and in some cases even better. It was a fun project man. It was a great time to go in and do this and offer it to the fans.
Sweet said the idea for the release came after discussions with the group's publishing company.
''They're pitching our songs to film and TV aggressively and they came to us and said, 'look, it would really make it a lot easier if you guys had instrumental versions of these songs and if you owned the masters outright','' he said. ''So I suggested, 'well, what if we were to re-record the songs', and they went through the roof and said, 'that would be brilliant'.
''So that's what we did. We set out to do it for that goal and that purpose alone and then because it was turning out so well and we got the interest of Frontiers Records we decided to make it available to the world.''
Sweet, who has produced all of Stryper's album's since their return, said revisiting old material was a little daunting.
''Whether you're covering someone else's music or you're covering your own, what happens consciously and subconsciously is you start beating yourself up over bettering or improving the original because you've got something to prove,'' he said. ''You go, 'well we're old now, we don't sound the same or play the same and it's not 1985 anymore', and you start second-guessing yourself, so it makes it a little more difficult in terms of applying more pressure to yourself to want to make it better.
''And that's the same thing we encountered with The Covering. We were trying to pay respect to these bands, but at the same time we didn't want to look like a bunch of hacks and a joke and do really crappy versions of those songs.''
While staying relatively true to the original versions of classic Stryper tracks like To Hell With The Devil, Soldiers Under Command and More Than A Man, the revisited tracks sound heavier than the originals and have certainly benefited from advents in recording technology.
''I'm my own worst critic,'' said Sweet. ''I think I'm the band's worst critic too. I'm that guy in the band that's never happy and I'm always wanting it to be better and better and better and achieve perfection, and quite frankly, here on Earth we're never going to achieve that.
''It's hard for me to listen to our records and just enjoy it. I'm listening to our new record right now that's not released, No More Hell To Pay, with critical ears - I'm picking it apart. And I still do the same when I listen to Second Coming and The Covering. I hear a note that I did and I wish that I had done a different note and I focus on that instead of listening to the song and enjoying it.''
Despite this, Sweet admits such dedication is ultimately a win for the band.
''I think not only in the camaraderie and the relationships but also financially,'' he said. ''I'm not charging the band 20 or 25 grand up front to produce. It really works out. The test is the public's ears. I think we're improving with every record and I think that this new record - when you hear this new record - it's leaps and bounds above anything we've ever done in terms of sonic quality. It's really great, it just sounds crisp and clear and punchy and so good. I know how to achieve that, with the engineer and myself. Nothing against the legendary producers, but at this point we really don't need one because we know how to achieve the same thing.''
So what exactly can the fans expect from No More Hell To Pay - the first studio album of all new material since the full reunion to include Gaines? Sweet says its much more than a return to the glory days.
''There's riffs, there's vocal harmonies, there's energy, but yet at the same time there's major differences,'' he said. ''We did Reborn, which was a little bit more experimental in terms of trying to be modern and we got slapped in the face and said, 'hey wait a second, what the heck are we doing here', the things that people want to hear from the band are guitar solos, harmonies and high vocal screams, which we left off of Reborn.
''Then with Murder By Pride we started incorporating those things again, and then fast forward to this album, it is exactly what people expect from Stryper, in terms of the high notes, the vocal harmonies, the harmony guitar solos - lots of solos - pounding drums ... it's the perfect definition of a Stryper album.
''I think when people hear it they're going to be shocked in a good way and know that Stryper are back 100 per cent. It's exciting and who would have known? We broke up in 1992, it looked like we were never going to get back together again. We've been together for a little over 10 years now and we're making some of the best records and music that we've ever made and who would have known that?''
Sweet said the band was currently putting finishing touches on the new package and was aiming for a November release.
He said that the majority of the new material was born in the past 12 months, with one or two exceptions.
''There was one song I had for this record in particular that we had wanted to record for years,'' Sweet said. ''It's a song that I wrote when I was 16-years-old, called Marching Into Battle. It's a really heavy heavy song ... really interesting riff.
''I rewrote the lyrics to it and we rearranged it and we recorded that song and then we also did a cover of the Doobie Brothers hit classic, Jesus Is Just Alright - it's real up tempo, ala Shining Star. It's got a cool almost Black Sabbath kind of groove in the middle of it, and then there's 10 new songs.''
In the midst of his Stryper commitments, Sweet has plans to also release an autobiography, titled Honestly, and an accompanying solo album before year's end.
''As I'm sitting there reading what I've spoken and written myself as we're editing, I'm thinking to myself, 'most people are probably going to love this, but there are going to be some people that don't like it', because I am brutally honest,'' he said. ''Without throwing people under the bus, I talk about things that they might not imagine myself or the band to have done in the years. Mistakes that we made and we learned from and we grew from, but I'm very open and honest with this book and I hope that everyone's okay with that and they're able to handle that.''
The solo project will also serve to interest fans. It includes a mix of material and guest spots from folk including Chris Jericho of Fozzy, Doug Aldrich of Whitesnake and Tony Harnell of TNT.
''It's got some edge,'' Sweet said. ''It's got some songs on it that you could imagine Stryper recording and then it's got some real eclectic, interesting, unique songs that you might not expect Michael Sweet to perform. It's a really cool record.''
With so much going on in the Stryper camp, the likelihood of fitting an Australian tour any time soon does not look likely, but it's not completely off the table.
Sweet said that the band would play around 20 dates in America this year and would focus on international commitments during 2014.
He said that Australia was one of the hopeful ports of call.
''There are certain countries that really have a soft spot in your heart and Australia is one of them and I think because it was one of the first places that we travelled to,'' Sweet said. ''I think there is a certain relationship that we have with our fans in Australia - that we love - and we don't get there often enough and it breaks our hearts.''
Second Coming is available now through iTunes.
From: http://www.fairfieldchampion.com.au/story/1583070/stryper-best-is-yet-to-come/?cs=1196
Categories: News