| | |
| --- | --- |
| Posted on June 18, 2013 at 8:10 PM | |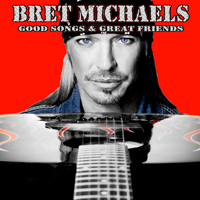 It would be nice to have a new album of Poison material one of these days, but frontman Bret Michaels doesn't seem to be in a hurry to get the band back into the studio. His latest is Good Songs and Great Friends, an album of covers of songs from his own catalog with a few covers thrown in for good measure.
The album features guest appearances from a veritable who's who of rock luminaries, including bassists Michael Anthony (Van Halen, Chickenfoot) and Eric Brittingham (Cinderella), and guitarists Ace Frehley, (KISS), Phil Collen (Def Leppard), Gary Rossington (Lynyrd Skynyrd), Joe Perry (Aerosmith), Frank Hannon (Tesla), Leslie West (Mountain) and his own Poison bandmate C.C. DeVille.
There are plenty of guest vocalists too, including Mark Mcgrath (Sugar Ray), Jimmy Buffett, Loretta Lynn and Robert Mason (Warrant, Lynch Mob).
The album even includes a version of Michaels' track Party Rock Band featuring late Ozzy Osbourne/Motley Crue drummer Randy Castillo.
"It's really not just a Bret Michaels album," the singer says. "I had so many other talented artists come in and support that it's really a Bret Michaels & Friends album. There's a staggering amount of talent on this! It's been such a fun project for me and I'm excited to share it with the fans."
From: http://www2.gibson.com/News-Lifestyle/News/en-us/Poison-Frontman-Jams.aspx
Categories: News