| | |
| --- | --- |
| Posted on June 17, 2013 at 11:20 PM | |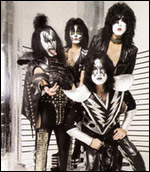 Current KISS drummer Eric Singer says he has grown weary of fans routinely asking for the original lineup to reunite. During a recent interview with Radio Nova, Singer said that fans are often more than willing to share their opinions about the band's future and direction.
"The people that want to complain about 'I don't like this,' or 'I don't like that,' 'They should play this song,' or 'I only want the original band.' The bottom line is: this is how KISS exists right now, in 2013," he explained.
He went on to suggest that fans should appreciate the band as it is:
"Be glad there's some version of KISS and that we're out there touring. We have just as much passion and case just as much as the band ever did or ever could. That's what counts. If we didn't, we wouldn't be here. I mean, Gene [Simmons] and Paul [Stanley] don't need the money; they don't need to do this. They do it because they love doing it."
From: http://www.rttnews.com/2136370/kiss-drummer-says-he-s-tired-of-fans-asking-for-the-original-lineup.aspx?type=Active
Categories: News