| | |
| --- | --- |
| Posted on June 13, 2013 at 8:15 PM | |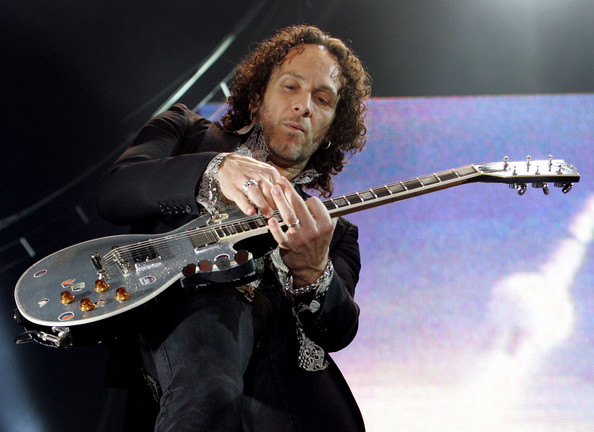 Def Leppard guitarist Vivian Campbell has been diagnosed with cancer. Nevertheless, he still plans to tour with the band this summer, even though he will be receiving treatment for Hodgkin's lymphoma.
"If you're going to have a cancer, Hodgie's is the one to have," the 50-year-old guitarist joked in a statement. "[It] has an over-80% cure rate." Campbell is already one-third of the way through a six-month chemotherapy scheme and said he is "feeling rather spiffy, all things considered".
Luckily for Campbell, his doctors found the cancer early. A persistent cough sent an "alarm call", leading to x-rays and CT scans. "[These] revealed that enlarged lymph nodes were doing wrestling manoeuvres on my windpipe," Campbell said. "I underwent a surgical biopsy on 11 March, the first day of Leppard rehearsals for our Viva Las Vegas shows. Obviously, I didn't make it to rehearsal that day, but it's OK; I know the songs by now."
Although chemotherapy means Campbell has lost his hair – he refers to it as his "new, aerodynamic hairstyle" – the guitarist plans to join his bandmates when they launch their tour on 21 June. He will also be performing with the original members of Dio for four shows in August. A member of Def Leppard since 1992 – when he was drafted in to replace Steve Clark, who died the previous year – Campbell was Dio's founding guitarist, as well as having played with Whitesnake, Thin Lizzy and Riverdogs.
Earlier this year, Def Leppard announced plans to re-record their entire discography in protest at what they felt to be insufficient royalties from digital sales from their long-term label, Universal.
From: http://www.guardian.co.uk/music/2013/jun/11/def-leppard-vivian-campbell-cancer
Categories: News