| | |
| --- | --- |
| Posted on October 26, 2018 at 12:10 AM | |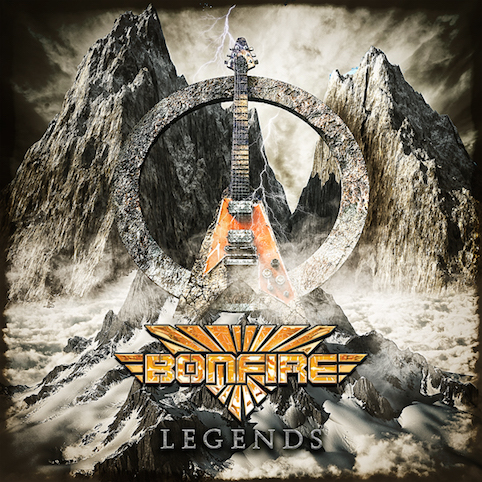 Bonfire – Legends
Written by The Rock Man
I freely put my hand up and admit I love a good cover or two. For as long as I can remember there is something about hearing another band's interpretation of a 'classic' that generates a little bit of anticipation within. With that said, not every band gets it right and again, I'll freely put my hand up and admit I have been known to be a little overprotective of some band's original works and wonder why so and so is butchering this masterpiece of musical excellence. It can get so out of hand you'd think I was in the band!
Then on the other hand you occasionally are faced with a situation that goes the other way and the cover ends up being so much better that the original piece. I honestly can't say it happens too often, but it does every now and then; Joe Lynn Turner's version of the Foreigner track Waiting For A Girl Like You springs to mind as the perfect example of what I'm talking about here.  
It's fair to say it's been a busy year for German heavy rockers Bonfire; back in April the band released a new album of all original material titled Temple Of Lies and fans could be forgiven for being satisfied with what was an overall solid outing from the boys. But somewhere along the line the band managed to find the time during a hectic tour schedule to head back into the studio to record another album; a double album in fact of classic '70s and '80s covers aptly titled Legends. 
To suggest Legends is a mammoth project, both in terms of material covered and number of tracks, is somewhat of an understatement. Firstly, there's 32 tracks over two CDs running for 130 minutes!.  Secondly, the quality of song selection is out of this world with cuts from some of the biggest bands of a golden bygone era, such as Toto, Survivor, UFO, Rainbow, Deep Purple and Queensryche given a fresh ultra-modern upgrade. 
So you'll remember that earlier on I mentioned the rare occasion when a cover turns out way better than the original, well this is where Legends kicks off with the most dynamic version of Toto's Africa I've ever heard. To be clear, I'm a fan of Toto, but not so much of Africa, I've always thought the song was lacking something.  Well, not anymore thanks to Bonfire; this 21st Century remake kicks the snot out of the '82 original. The secret, albeit a simple one, is guitars, guitars, guitars. On the original version the main feature is a dominant keyboard section, Bonfire have replaced that main keyboard melody with a heavy guitar substitute and finally the track has some much needed hard rock backbone. This same treatment is also applied to Toto's other big hit of the era Rosanna and the effects are just as impressive. 
From here Bonfire move on to a handful of Rainbow tunes, with Man On The Silver Mountain and Death Alley Driver, potentially two of their biggest tracks receiving a new-fashioned revamp. If you were a fan of the Rocky film franchise during the '80s then you'll be more than familiar with two of Survivor's biggest hits from those soundtracks: Eye Of The Tiger and Burning Heart. Both classics are featured here and are solid and respectful offerings; the former does afford the listener a nice, slightly meatier guitar sound than the Survivor version.  
Over the decades many bands have tried their hand at UFO's showpiece Doctor, Doctor, naturally Bonfire are the latest and I honestly doubt the last. Once again, another solid endeavour, that said however, the original still reigns supreme.
To prove that disc one wasn't a fluke, Bonfire apply the same sprinkle of magic to a number of rock and metal classics on disc two. I am a Queensryche fan from way back and I do get a little touchy if other bands attempt to cover anything from the Operation: Mindcrime and Empire records, which in my view, are metal classics. This is where disc two of Legends begins with three tracks from that said period: Jet City Woman, Silent Lucidity and Eyes Of A Stranger. For what they are, these are solid performances and a sturdy way to kick off the second album; vocalist Alexx Stahl is no Geoff Tate but I'll give him a B+ for effort.  
One of the biggest surprises is the inclusion of three Robin Beck tracks. I wouldn't say that Beck is a huge name in the rock world, so anyone covering her songs is unexpected to me. That said, Bonfire take on these songs and re-creates them in their own hard rock style. The highlight here is For The First Time which is given a bit more edge than the original late '80s hit. From here the band offers up rewarding renditions of cuts from Hardline, House Of Lords and Grave Digger, most notably their version of Rebellion.
Legends is simply and outstanding salute to rock and metal bands of the past and the respect and appreciation Bonfire have for these timeless tunes shines through. If you're a fan of this era of rock history then Legends is a must have. 
Categories: Album Reviews