| | |
| --- | --- |
| Posted on October 23, 2018 at 9:40 PM | |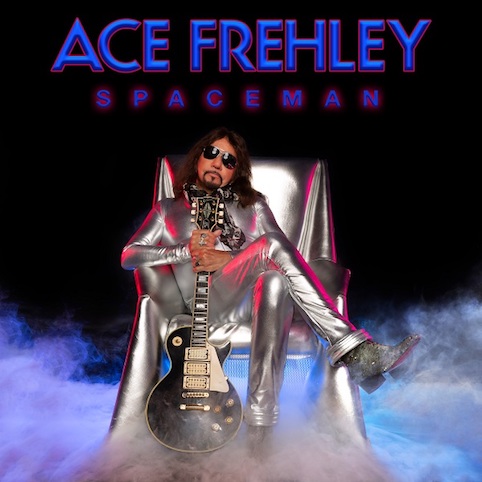 Ace Frehley – Spaceman
Written by The Rock Man
In today's musical landscape it can become laborious keeping up with all the different genres and styles available to consumers; things change so quickly, what was fashionable five minutes ago is now redundant. In this rapidly ever-changing world it is nice and somewhat refreshing to know there are still some things you can count on to remain as they were in days gone by.  As new artists rise and fall in the blink of an eye, there are those faithful pillars of rock history still standing in the background like a reliable family dog waiting at home to greet you with enthusiasm after a long day at work. For many of us that grew up in the '70s that reliable friend is Ace Frehley. 
The former KISS guitarist has built a solid catalogue of material over the decades since his departure from the '70s mega-group, with seven albums to his name prior to this year. But now the once 'Celestial being from another world' has returned with a collection of new songs on his next studio record aptly titled Spaceman.
It's fair to say that Spaceman is a throwback to the '70s in every possible way which, for those who remember it like myself, is a welcomed change to some of the nonsense passing itself off as rock music nowadays. Firstly, the album features nine cuts which was standard practice back then - only the best songs are selected. These days many records can feature up to 15/16 tracks with many of them used as filler. Secondly the songs themselves run for an average of 3:30 to 4:30 minutes in duration with the overall running time of the album clocking in at 38 minutes; now that is old school! And then there is the quality of the songs, as soon as you push play you are instantly transported to a simpler, less complex era. 
The record takes flight with the Gene Simmons co-written rocker Without You I'm Nothing. You can judge for yourself which KISS album you think this could've been on as it has all the trademarks of that classic KISS sound. So as KISS fans we all know the lyrical story behind one of the band's biggest hits Beth: Rock star is in the studio working with the band when he gets a phone call from his wife complaining that she's home all alone and he's spending too much time with the band; Rockin' With The Boys is basically Beth 2.0 taken to the next level and backed with some serious guitars and melody.
Your Wish Is My Command is the second Gene Simmons collaboration featured on the record and you can sense that the former bandmates have never had a better working relationship and are operating in perfect unison. The track is punchy and full of melodic guitars. If it ever came to light that Bronx Boy was recorded during the Hotter Than Hell sessions, I wouldn't be at all surprised. This track has all the hallmarks of something that sounds like it belongs on that record. Whether by design or default the track is dripping with gritty New York 1974 rock and roll attitude and a scorching solo. 
Ace has always been a rock and roll maverick and somewhat of a free spirit, those attributes are channelled into Pursuit Of Rock And Roll. On this song Ace reflects on his childhood growing up with heroes such as Elvis Presley, Chuck Berry and The Rolling Stones. This is definitely one of the highlights of the record. Continuing the reflective mood, I Wanna Go Back sees Ace longing to relive his younger days and I'm sure anyone over 40 who hears this song will be able to relate. 
Mission To Mars, as you would expect by the title, is a rocking space odyssey, again, featuring another smoking solo; while Off My Back is probably the most modern sounding cut on the whole album. As has become the norm on Ace Frehley records over the journey, the album comes to a close with an instrumental. Like those that have preceded it Quantum Flux is a nicely balanced blend of acoustic and electric guitar playing that makes you appreciate how gifted Frehley is as a guitar player and his place and influence in the history of rock.
If you're of a certain vintage and you find yourself disillusioned by today's modern music world, you'll find that Spaceman is a timely reminder of how it was back in a golden age of rock. For those of you not old enough to have experienced it, Spaceman is a first-rate example of how the big boys used to do it 'back in the day'; an example that could hold the modern rock star in good stead.  
Categories: Album Reviews