| | |
| --- | --- |
| Posted on October 8, 2018 at 11:15 PM | |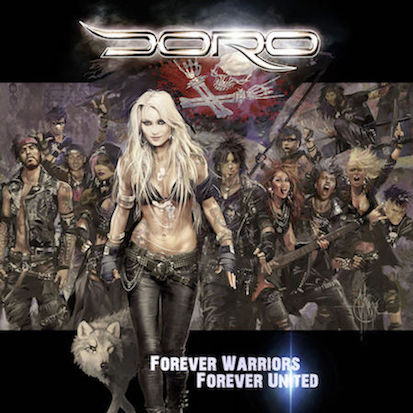 Doro – Forever Warriors Forever United
Written by The Rock Man
For 34 years Doro Pesch has been the undisputed queen of metal in a very dominated male arena. Since exploding onto the metal scene in 1984 with her band Warlock, the Düsseldorf native has built an enduring legacy forged on the back of one quality release after another that is the envy of most of her male counterparts.
It has been a while since her last album, Raise Your Fist (2012), so you would expect her next studio album to pack a punch and be a big effort to satisfy her many loyal and devoted fans who've had to endure the long wait. And it is fair to say that Doro has more than delivered on that criteria of a "big" album with the arrival of Forever Warriors Forever United.
This album isn't just big in sonic scope but actual size spanning a massive 25 tracks and is available in a double album format. The record is broken up into two parts: Disc One - Forever Warriors, and Disc Two – Forever United.
So let's take a look at what Forever Warriors has to offer. The fist pumping rock anthem All For Metal kicks off this first instalment of the album. This is trademark Doro at her best and will naturally draw parallels to previous works like All We Are, Celebrate and Raise Your Fist In The Air. Bastardos continues the pace with its relentless double bass drumming and face melting melodic guitar riffage which is reminiscent of Doro's '80s halcyon days in Warlock.
If I Can't Have You - No One Will is a very good example of how to take a really good song idea and ruin it. For this cut Doro has paired with Swedish death metaller Johan Hegg (Amon Amarth), a decision that would be detrimental to the sound of the track. The song itself is a mid-tempo ballad-ish track with lots of melodic bite and a solid vocal performance from Doro herself but then comes the growling, deep throated, doom vocal of Hegg and the track loses all appeal for me. I can't understand why she didn't opt for someone like Biff Byford (Saxon) or even Udo Dirkschneider (ex- Accept) as a potential vocal partner. Sadly, and I do hate to be critical, Doro has missed the mark on this one. If you're a fan of this brand of metal, then you'll find some value here; otherwise press skip on your chosen player device and move on.
And move on you'll do quickly with a number of monstrous heavy rockers such as Turn It Up, Be Strong, Blood, Sweat And Rock N' Roll and Backstage To Heaven. A real highlight and a most welcomed surprise was Doro's cover of the hit Whitesnake track Don't Break My Heart Again. Overall she stays pretty true to the 1981 original; the main difference is a slightly heavier, chugging guitar riff throughout. Of course you'll also find the mandatory German language track and a couple of handy ballads, Bring My Hero Back Home Again and Soldier Of Metal being the picks of the bunch there.
So what of Forever United? Is this second disc something different to counter balance the first disc? Or are we just talking about more of what has come before? Well, it's a pretty safe bet that this second disc is going to be as consistent as the first with the same high quality of work as Forever Warriors.
Résistance is a solid and steady hard rocker with lots of toe tapping melodic punch, this is followed by the dynamic mid-tempo ballad Lift Me Up which was made available as a promotional lyric video. Heartbroken features some very graceful guitar work and a scorching solo from guest axeman Doug Aldrich (Dead Daisies) and this cut wouldn't have been out of place on her self-titled album back in 1990. From here Forever United establishes a pattern of rocker followed by a ballad, followed by a rocker, followed by a ballad and repeat.
Fight Through The Fire is a metal monster and a standout track of the record; the cut features a slick heavy driving bass line accompanied by a grooving drum rhythm and gritty, chugging guitars. For something completely out of left field, Doro tackles Caruso, a ballad sung in Italian and then follows that up with the guitar driven instrumental Tra Como E Coriovallum. To conclude the experience, the album comes to an end with Metal Is My Alcohol, a short punkish flavoured track half sung in English, half sung in German.
While it's true that it's been a long time between drinks for Doro albums, I strongly believe you would be hard pressed to find a Doro fan, or a metal fan in general, that wouldn't find something of interest on this double album venture. If you've followed her 30+ year career at any point then you'll have a fair idea what to expect from Forever Warriors Forever United, and at this stage of the game Doro isn't about to re-invent the wheel.

Categories: Album Reviews