| | |
| --- | --- |
| Posted on August 29, 2018 at 9:05 PM | |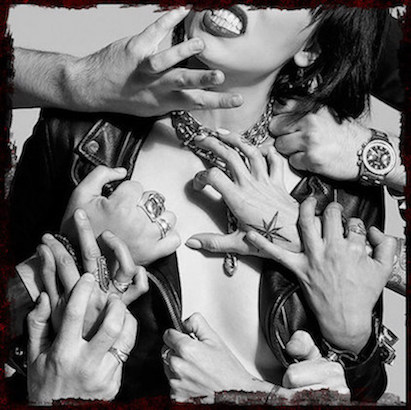 Halestorm – Vicious
Written by The Rock Man
Chicks + Metal = Awesome. It's a pretty simple equation and a point of view that I've held for a long time now. Unfortunately, in this male dominated arena the simple reality is there just isn't enough woman flying the flag for hard rock/metal; and this isn't just a current day thing, sadly this has been the case for decades. On the plus side however, leading the charge for female rockers the world over is Halestorm lead singer/songwriter/guitarist Lzzy Hale.
Since their debut self-titled album in 2009, Halestorm have been like a raging bull charging ahead with one solid release after another. Now, three full length studio albums and three cover EPs later, the band deliver their newest addition to their already impressive mounting catalogue of material titled Vicious.
Whether by design or default Vicious is by far the bands heaviest effort to date. The first thing that became glaringly obvious to me was the greater presence of bass guitar. What bassist Josh Smith brings to this venture is clearly more defined and adds greater weight to the material. For his part, lead guitarist Joe Hottinger delivers some face melting solos and bone crunching riffs; potentially some of his heaviest work yet. While drummer Arejay Hale, who on the band's previous record, The Wild Life (2015) experimented with a variety of redefining time signatures, opts for a more standard, straight forward approach. Which leaves Lzzy Hale, who once again, showcases her remarkable flexibility to go from a scorching high powered roar to a tender whisper quiet moment.
Vicious thunders to life with Black Vultures which is a standard Halestorm go-for-the-throat, take-no-prisoners heavy rocker with all the above mentioned elements in play. Uncomfortable sees the band put the pedal to the metal with this up-tempo juggernaut. Lyrically the track is dripping with anti-authoritarian sentiments and viewpoints: "I did it cause I wanna and I did it cause I'm gonna and I did it just because I can/ I did it cause it makes me feel good, and I did it cause fuck 'the man'". Buzz came across to me as a Joan Jett/Lita Ford hybrid; plenty on melodic drive in the guitar department, solid groove and swagger from the drums and bass and Lzzy's powerful and passionate vocal delivery. As for Do Not Disturb, this is a sex charged, down and dirty, heavy beast which wouldn't be out of place on a Nickelback record.
The rockers continue to flow with cuts such as Killing Ourselves To Live, Painkiller, Skulls and White Dress with its empowering message of self-belief and inner strength. In an attempt to show listeners that the band isn't just one dimensional they have included two power ballads on the record. Heart Of Novocaine is the first of these and musically is a big acoustic driven number. Lyrically the track bears some similarities to Kelly Clarkson's Because Of You; similar to the point that both tracks highlight emotional and mental abuse from a significant person in one's life. The second ballad is The Silence. This track closes out the album and is a simple arrangement driven by an acoustic guitar and Lzzy's vocals; and my goodness, how they shine. Lzzy's full range of vocal ability is on display here on this spine-tingling performance that, quite frankly, puts many of her male counterparts to shame. Personally I think the price of admission for this track alone is worth it. Take note Pop princesses: this is how you sing a song.
Vicious is quite simply a triumph in record making. If you are yet to experience Halestorm in all their glory, now is the perfect time to see what all the buzz is about.
Categories: Album Reviews