| | |
| --- | --- |
| Posted on August 27, 2018 at 11:30 PM | |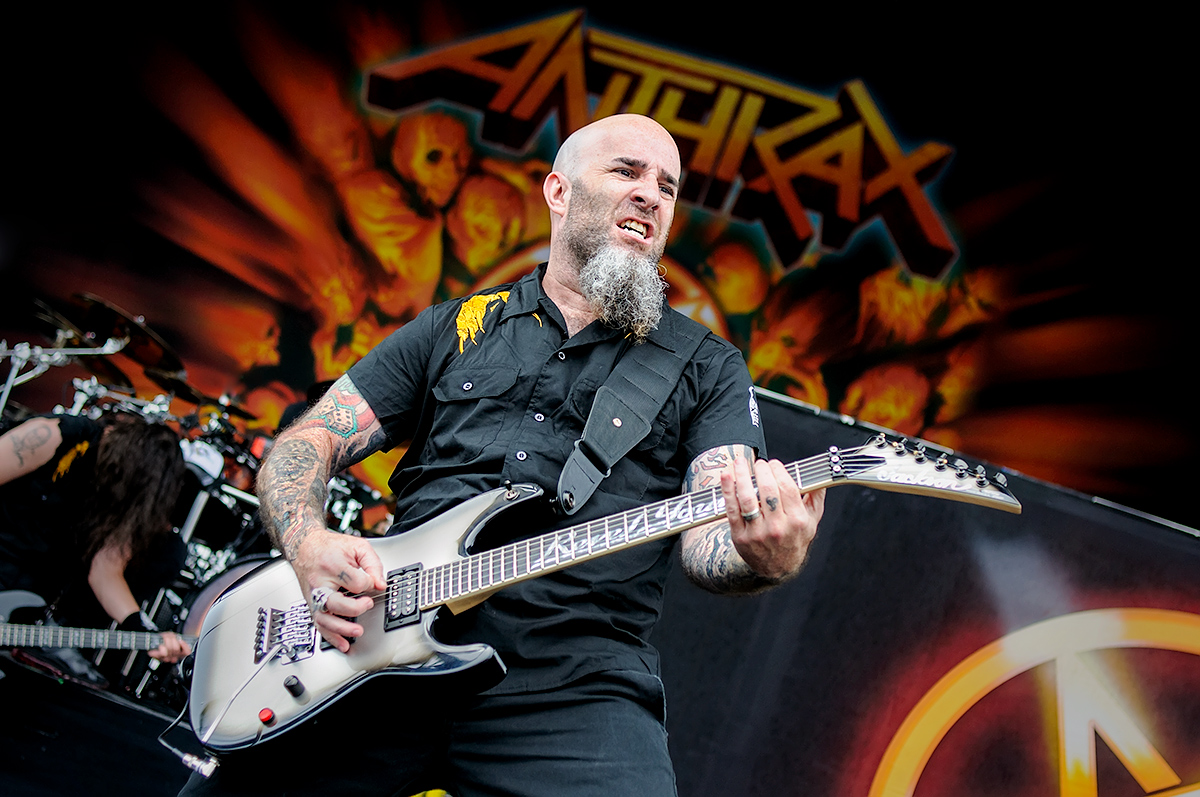 Without doubt Scott Ian is a pioneer in the world of thrash metal. The Anthrax guitarist/songwriter has been the chief architect of the band's enduring longevity. Although the band has gone through many line-up changes throughout the decades, the one constant has been Ian and his unwavering determination to see the band succeed. Which is why Anthrax has established a formidable legacy in the domain of heavy metal. So with any great tale of triumph and adversity there are going to be battle scars and stories to tell and there's plenty to share when your career has spanned 30 plus years. In September Ian will be heading to Australian shores for a national speaking tour called "One Man Riot". This provided me with a great opportunity to catch up with the man to chat about the band's prodigious career, the upcoming speaking tour and his love for KISS.
Rock Man: Firstly, thank you for your time today Scott. Congratulations on what has been an outstanding 34-year recording career with Anthrax; in addition to your work as an author and the many TV guest appearances that you've had. If we were to go back in time would a young Scott Rosefeld growing up in the '60s and '70s believe that any of this was possible?
Scott Ian: Absolutely I believed it was possible, I just didn't know what would become of it, obviously. But it was my dream to do this with my life and I believed I could do it. I always believed I could do it. If I didn't, I wouldn't be here right now.
RM: You've been the driving force behind Anthrax. How have you seen the band evolve and develop over the past 30-plus years and are you comfortable with where the band is currently?
SI: Yeah, absolutely. How we have evolved? I like to think that after 37 years we get better at our job; I think we are a great live band and I think we make great records and that is the reason why we're still doing this 37 years later. If we weren't getting better and evolving I don't think we'd still be here.
RM: So in 2014 you released your first book I'm The Man: The Story of That Guy from Anthrax. Now comes your next book, Access All Areas: Stories from a Hard Rock Life. In what way does this second book differ from the first or is this just an extension of the first book?
SI: Well, the first book is an autobiography and the second book is 23 short stories, you know, it's all about my life but just using different types of books.
RM: In September you'll be heading to Australia for a speaking tour, One Man Riot. What can fans expect from this event?
SI: It's basically an answer to the question of what is the craziest thing you've seen on tour or who is the craziest person you've ever met; my show is that. I'm telling all the craziest stories from my life on tour in Anthrax.
RM: What do you get from these types of speaking shows that you may not get from playing a live gig with Anthrax?
SI: Well it's all me, I have all the control and I also have all the responsibility because it's just me. If it all goes right it's all me, if it all goes wrong it's all me; but I embrace that and I love that and it's just me on stage talking and I'm able to talk to an audience for two and a half hours and keep them entertained that whole time, just by talking to them. I still find it challenging and it's still new to me and it's really enjoyable.
RM: In recent times you've spoken about having some ideas floating around for the next Anthrax record and I read not too long ago Frank Bello say this next album could be some of the heaviest material you've ever done. How is that progressing at the moment?
SI: It hasn't at all. We were hoping to get started in January working on new material but we've been on tour since For All Kings came out. So we have ideas but there is no progression at all yet. We'll start next year after we're off this Slayer tour.
RM: 30 years ago you released what I consider as a classic metal record of the 1980s in State Of Euphoria. Looking back on it now what do you recall about making that album and that time?
SI: Well, we were coming off Among The Living and obviously the band had achieved a bigger level of success at that point, so that really is where that album comes from. The title State Of Euphoria is very representative of where we were as a band in 1988 because in the wake of Among The Living we were now a band, we had made it! We had a Gold album, we were selling thousands of tickets every night, we were playing festivals and everything in our lives had changed. Seemingly overnight, but not really considering it had been seven years of hard work to that point, but looking back on it now that's not very long. But back then it was seven straight years of busting our asses to that point and in a sense we had broken; we had achieved success that we could only have dreamed about a couple of years earlier. So that really is where that album came from, it's just where we were at that moment in time.
RM: So does the band have any plans to release any special 30th anniversary editions of that record or maybe do a run of shows to celebrate the milestone like you did with Among The Living?
SI: Well I know it's getting re-released in October on a very high quality vinyl, like a double vinyl and it has been remastered and there's a bonus disc of demos for the record. So there's a really high quality package coming out in October.
RM: Sweet! So when you look back on your catalogue of material, is there one album that for you stands out as your proudest achievement?
SI: For me it's always the most recent one because that's always the most difficult. So you could ask me that question at any time of my career and I would have told you the last record we made, you know, because the fact that we wrote 10 more songs or whatever it may be and we were so excited about it that we felt it was good enough to go into the studio and record and then go out and tour that record for two years. So for right now it's For All Kings because we're still touring on that album cycle and it's the one I'm most proud of at this point.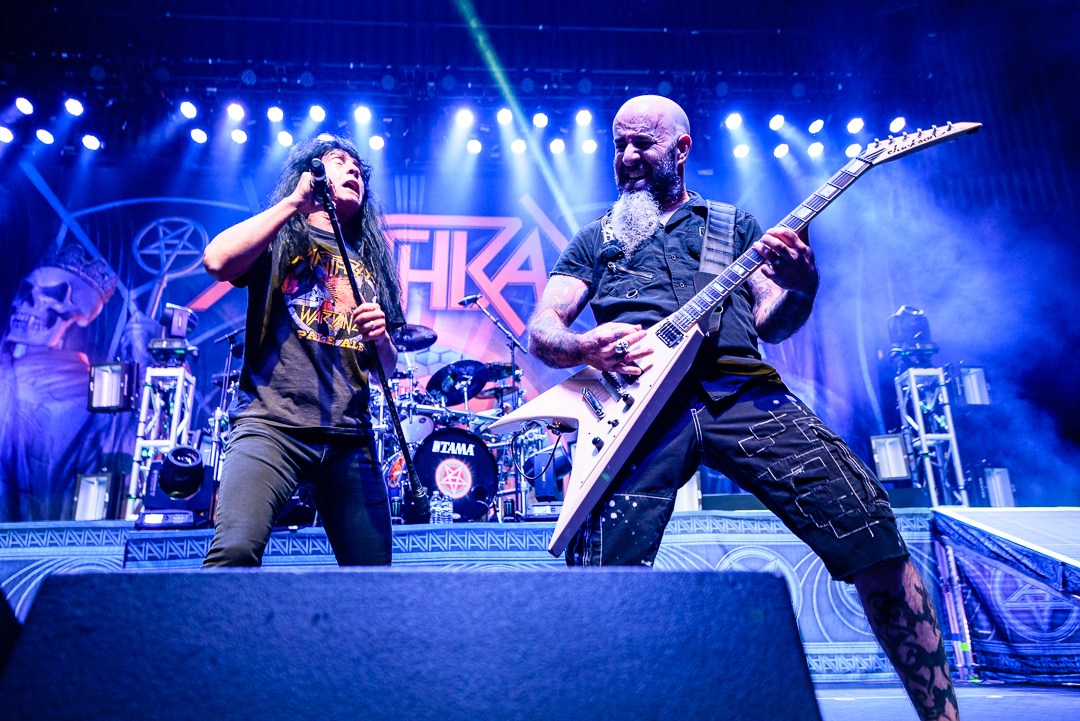 RM: For some time now there has been a debate going on about the validity of full length studio albums. Some are of the view that because of the downloading culture and lack of record industry support that there is no point in making them. Others take the view that there is still a place for them in the modern world. Given that you still record studio albums, what do you see is the future for this form of expression?
SI: I don't know; we're just going to keep on making records. We really don't give a shit about whatever trends there may be in the industry. I really don't care. I love albums and we love making albums and that's what we're going to continue doing.
RM: In your time as a recording artist you would have experience many changes within the music industry. For example, the introduction of the CD, the digital age, downloading, the internet and so on; is there any one thing you can identify as having the most impact on the industry?
SI: It depends. In a positive way I would say probably the CD when it first came out. I mean, people will argue CD verses vinyl until the end of days, but I loved CDs when they first came out and I really embraced them and I thought they were great. In a negative way, I would say the internet because I think it would be a much better world if people went to record stores and bought CDs and tape cassettes and vinyl and I don't care if people say that's an old way of thinking, I don't call it an old way, I call it a better way. Look I embrace streaming, I have Apple music and Spotify, it's amazing to me that I can be in my house and have access to every song ever recorded on my phone, it's mind-blowing! But as a guy in a band the fact that we don't get paid for that just sucks. I'm not going to pussy foot around it, it sucks that we don't get compensated for our work through streaming. So maybe in my life time that will all change but I do miss the old days and I really do think people are missing out on that huge experience of going to a record store and buying a record.
RM: There are some outspoken rockers in the industry that have taken the view that some veteran bands have had their time and should simply retire quietly and with whatever dignity they still have left. What do you say to that?
SI: Every band should play as long as they want to play. I've only ever based it on one thing: Am I still having fun? Do I enjoy being in my band? And until that changes I'll never stop.
RM: Like myself, I know that you have a very strong and passionate love for all things KISS. Can you tell me about when your love affair with them began and what they have come to mean to you over the decades?
SI: I heard Rock And Roll All Nite over the radio in 1975 and that was it. I didn't know what they looked like or anything I just heard the song. But I loved the song and it wasn't long after that that I saw them on television and then when I saw what they looked like that was it! I was already a big comic book fan for years and I already loved horror movies for years so it all tied together, it was basically my heroin as an 11-year-old. It went straight to my brain, to whatever pleasure centre there was in my brain and shit lit up like a Christmas tree and that was it. Everything in my life changed and it was because of them that I wanted to in a band. It was because of KISS, it was everything to me. You know, over the years I've gotten to become friends with them and I email, I talk to Gene Simmons, like it blows my mind that he's a dude that I can send an email to and he writes me back. It's like being able to email Zeus or something, like for real. As a kid it would have seemed easier to be able to email a fictional God than it would be to actually get Gene Simmons to reply to you. They mean everything to me and they have treated me amazingly over the last 30 years and I can't say enough about that band. If it wasn't for them I wouldn't be here doing what I do.
RM: I know you're also a massive Judas Priest fan. Have you had an opportunity to check out their newest album Firepower and if so, what have you made of it?
SI: Yeah I got it right when it came out. Yeah I think it's great, I think it absolutely represents Judas Priest. I'm stoked that they are out on tour, you know, it's fucking horrible what Glenn Tipton is having to go through right now. But the bottom line is they are still out there doing it and it seems to be bigger than ever for them right now. So I'm very happy for them.
RM: On a final note, does the band have any plans to come back to Australia for a national tour?
SI: Well we haven't been there yet, it's one of the few places we haven't been to and we are hoping to rectify that very soon.
RM: Again, congratulations on all your achievements. On behalf of everyone at Full Throttle Rock I would like to wish you all the best for the future and a heartfelt thank you for all the great music you created with Anthrax over the journey.
SI: Thank you so much and thank you for giving me the time.
For more information about Scott Ian vist his official website at: www.scott-ian.com
For more information on the Anthrax vist the band's official website at: www.anthrax.com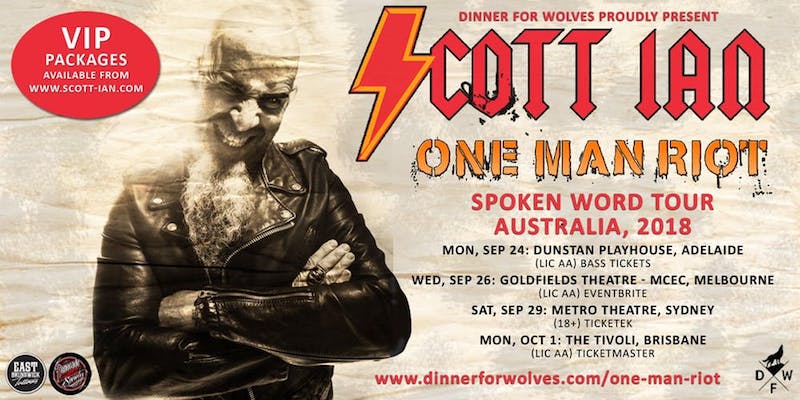 Categories: Interviews