| | |
| --- | --- |
| Posted on August 2, 2018 at 8:45 PM | |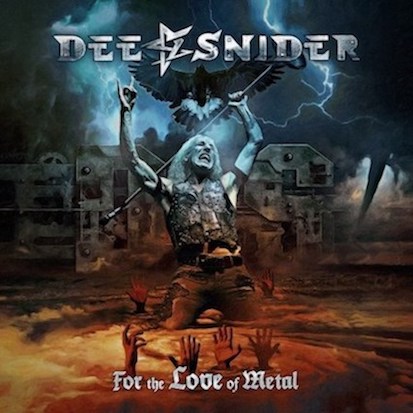 Dee Snider – For The Love Of Metal
Written by The Rock Man
In case you missed it back it 2016, a quick refresh: Twisted Sister frontman Dee Snider released a solo album titled We Are The Ones, that in his own words was described as, "My Heavy Metal fans are gonna hate it! I've moved on, forget the past". It was true, Snider had moved on recording an album that was taking the veteran rocker down a different path; a more modern rock path. Okay, it wasn't metal but it didn't suck either. For all intents and purposes it appeared at the time that Snider's metal days were long behind him. Then came a challenge from producer Jamey Jasta (Hatebreed) to record a traditional sounding metal record. Challenged accepted! And the result is the blistering For The Love Of Metal.
From the get-go the title alone tells you that this record is going to knock you on your ass and kick your head in. And if you have any doubt before you put this record on those fears or hesitations are very quickly laid to rest once the face melting opening track Lies Are A Business takes flight. This track is like a rabid dog on the attack; brutal and relentless, a pure metal thunderbolt. Musically the cut is a frenzy of double bass drums and shredding guitars that almost border on speed metal, while lyrically Snider makes a political stand.
Intestinal fortitude, strength of mind and a never-say-die view point have always been at the forefront of Twisted Sister's mantra. That same attitude is alive and well today in the form of Become The Storm as Snider roars "The rain is nothing to fear/When you become the storm/We are not here to suffer/But what we get through makes us tougher", sounds like words of wisdom to me. Or there's the raw, gritty and almost Sevendust-ish The Hardest Way featuring ex-Killswitch Engage vocalist Howard Jones: "This is about not knowing/And always having to change/Making the best of moments/That will test our strength/Without knowing what happens next/With courage taking the first step/We've all learned something/The hardest way". And then, just to add an exclamation point on it all, there's this from American Made: "Take a look as I walk tall/Stand up against you all/Attempts that I forestall/There's no breaking me/No talk just action now/Push forward don't care how/Fight till the end that's how I'm made".
Alissa White-Gluz (Arch Enemy) duets on Dead Hearts (Love Thy Enermy), the sole ballad on the record. When I first heard about her inclusion on the record I had grave fears for what she would bring to the table. I've never been a fan of that deep-throated growl style vocal that is on display in Arch Enemy and I assumed that's what would be on offer here. Thankfully I was so very wrong; instead what she has provided is a beautiful and almost angelic vocal piece which compliments Sniders sneering roar perfectly. With that said, I scratch my head wondering why she doesn't sing like that all the time? But I digress.
Of course a Dee Snider record wouldn't be complete without a couple of larger than life metal anthems and on For The Love Of Metal we are served Tomorrow's No Concern and the title track, with its multiple heavy metal references.
Throughout the world Snider is recognised as the voice of Twisted Sister, but he also has other projects to his name such as Widowmaker, Desperado and solo workings. If you've bought any of his offerings over the past four decades, or any other metal album over that time really, then there's a fair chance you'll know what to expect from For The Love Of Metal.
This is Snider's version of metal - pure, passionate, from the heart and unapologetic, in short, a very satisfying record; one that deserves your full attention and multiple listens and as Twisted Sister always used to say on their album liner notes, "Play It Loud Mutha!!
Categories: Album Reviews