| | |
| --- | --- |
| Posted on June 18, 2018 at 10:25 PM | |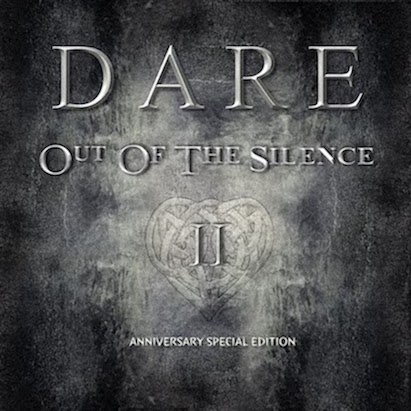 Dare – Out Of The Silence II (Anniversary Special Edition)
Written by Juliano Mallon
The late 1980s brought an avalanche of great AOR albums from the UK and Dare's spectacular "Out Of The Silence" is one of them. With engaging melodies and vocal highlights from Darren Wharton (Thin Lizzy) coupled with Mike Shipley's exuberant production, the album made its mark on the scene and catapulted the band into the AOR stratosphere.
Now, 30 years passed, Dare presents a retelling of their debut album with a different lineup, but one that still holds original members Wharton and talented guitarist Vinny Burns.
Overall, "Out Of The Silence II" may seem like a mere re-recording, but it's way more than that.
The songs gained a proper ending itself, unlike the fade out of the original version. This detail may seem small to some, but believe me, the additions made were of great value and conferred that "something else" to the tracklist.
Very cleverly, the melodies and arrangements remained untouched (as it should be), but the three decades that separate versions I and II present subtle differences, and despite not being a cause for worry, those don't go unnoticed.
The biggest one is definitely, production.
Australian genius Mike Shipley (R.I.P.) introduced us to these Dare songs wrapped in that crystal-clear, pompous, engaging production, as he used to do in Def Leppard, City Boy, The Cars, Kim Carnes, Scorpions, Vixen, Ratt, Cheap Trick, Winger, Richard Marx and many others. It is worth remembering that Shipley was the most notorious apprentice of the legendary Robert John "Mutt" Lange, with whom he worked for decades.
From the very beginning, it's noticeable that the drums and bass don't have, respectively, the same punch nor the depth of the original version. Still, the vocals don't sound like the grandiosity that Shipley has printed and this creates an aura of inconsistency, personally speaking.
But Wharton's production has given it a more organic sound, an aspect that's much appreciated today. The guitars have gained more space in this new mix, and if on one hand bass and drums sound weaker compared to the original material, in this new version all elements integrate more fully and that should be reason enough for you to hear what Dare set out to do.
In short, "Out Of The Silence II" is an album as interesting as its original version. Not only has the re-recording brought new life to the songs, but interpretations also sound carefully different enough so they can be compared. And there's no getting around the fact that the Wharton / Burns duo is what unites the pieces of this re-recording. A risky maneuver, I think, but in this specific case, the band pulled it off graciously. An album recommended not only to Dare fans, but also to any AOR enthusiast.
"Out Of The Silence II" is out now, on Legend Records.
Categories: Album Reviews