| | |
| --- | --- |
| Posted on June 12, 2018 at 10:00 PM | |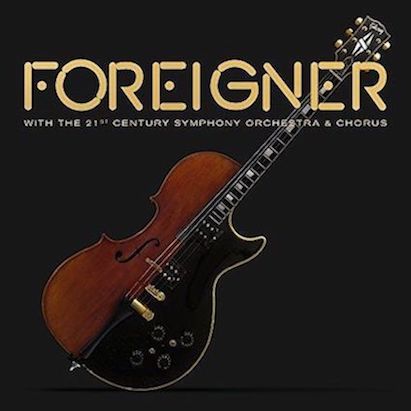 Foreigner – Foreigner with the 21st Century Symphony Orchestra and Choir
Written by The Rock Man
Being a fan of English-American rockers Foreigner over the years has at times been challenging and somewhat frustrating. The market is overflowing with band compilations and re-recorded versions of the same classics from the '70s and '80s and it seems like every couple of years we get another of these cash grab offerings. I'm sure I'm not alone in saying, as fans, we'd like some fresh new studio material from Foreigner; but alas, once again the band have elected to go down the tried and true road of releasing yet another reworked compilation record... but this one has peaked my interest and here is why.
Someone, either at the record company or within the band, had the brilliant idea to put this multi-platinum album selling band in a room with the renowned 21st Century Symphony Orchestra and Choir from Europe. To be honest, it doesn't really matter whose idea it was, the fact is it was a master stroke of pure genius. Musicians of hard driving heavy rock are a dedicated and passionate bunch; the same can be said for craftsmen of classical music, who are equally and possibly more devoted. When the two forces come together something truly magical and intangible takes shape, just look to Metallica's S&M offering with the San Francisco Symphony or Scorpions Moment of Glory album with the Berlin Philharmonic Orchestra as examples of what is achievable.
So in May of 2017 Foreigner partnered with the 21st Century Symphony Orchestra and Choir for two sold out shows in Lucerne, Switzerland and the pay-off is dazzling to say the least. The event kicked off with the orchestra and choir, masterfully conducted by Ludwig Wicki performing a three-and-a-half-minute piece titled Overture which is gate crashed by the gritty guitar sounds for Mick Jones, Thom Gimbel and Bruce Watson as the open riff to Blue Morning, Blue Day bellows out of Marshall amps. As the rest of the band, accompanied by vocalist Kelly Hansen chimes in, it becomes clear very quickly this is going to be a once in a generational occasion.
From here it's a string of hits, Cold As Ice, Waiting For A Girl Like You and Say You Will. All of which are taken to a new level, especially Waiting For a Girl Like You. I've never really been a big fan of the track, but this arrangement and the inclusion of the orchestra is simply marvellous. They should have recorded it like this in the studio for the album 4. As we work our way through the track list, we are treated to more classics like That Was Yesterday and Feels Like The First Time, but the standout moments of the record comes with this next block of tunes.
To fully understand the sheer power of rock music coupled with stirring orchestral majesty look no further than Double Vision. I'll admit this song is one of my all-time favourite Foreigner tracks but this cut is off the page and worth the price of admission alone. The atmosphere is built on a bed of violins and the angelic choir, as this reaches its crescendo the drums and crunching melodic guitars kick in backed by further spellbinding violins and the result is unforgettable. In fact, unforgettable can also be used best to describe the fresh and slightly modified versions of hits Urgent, Jukebox Hero and I Want To know What Love Is.
By the time the CD (or DVD) has come to its conclusion, what fans of this iconic rock act are left with is a feeling of pure delight. Here is a collection of songs most of us have grown up with over the decades presented in a new light and backed by one of the best orchestra/choir combinations the world over. Even if you're not a fan of Foreigner but just a fan of rock music, I would strongly urge you to consider checking this package out, if only, to bear witness to what is musically possible when two seemingly opposite genres collide.
Categories: Album Reviews