| | |
| --- | --- |
| Posted on May 31, 2018 at 1:35 AM | |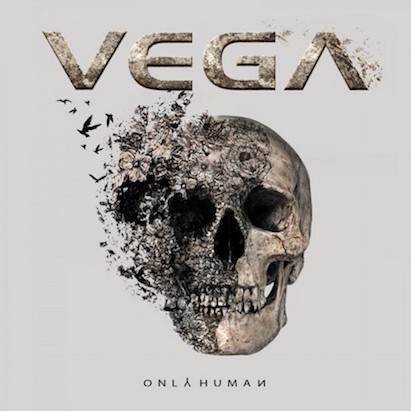 Vega – Only Human
Written by Juliano Mallon
When it dawned on the universe of good sounds in 2010, Vega was just a good promise. Today, it is a consolidated and acknowledged band, and much of that recognition is due to the compositions of brothers James and Tony Martin, the secret weapon of the band, in my opinion. Consistently launching a new album every two years, "Only Human" hit the stores on May 11th bringing the sound that made Vega known: straightforward, well-produced and whimsically well-played melodic rock, as well as relying on mixing and mastering by Harem Scarem's frontman Harry Hess. That put, it's somehow obvious to say that if you enjoyed Vega's previous works, the new one will please you in full.
The series of rockers begins with "Let's Have Fun Tonight," but it's the mood set by "Worth Dying For" that excites me more with its killer chorus and well-paced melody, as well as the excellent "Last Man Standing", a healthy shot of the best "melodic rock made in the UK", bringing a base of keyboards to the frontline, where bass and guitar elegantly parade up the explosive and sticky chorus, as the "how to" sacred book of good sounds teaches; as does "Come Back Again," a well-paced mid-pacer with a slight variation of tempo between verses and chorus, all framed by an engaging arrangement that culminates in a shocking chorus. Multiple auditions and absolutely no moderation become necessary in each of these songs.
Next up is "All Over Now," a rocker tailor made for radio, with engaging melody and sticky chorus - just like the gods want - and so multiple auditions are recommended. And this recommendation extends to the great "Mess You Made", a very effective rocker with simple structure, relying on cutting guitars in the foreground and discrete keyboards in the back one, sewing a delicate texture that fills the few spaces that bass and drums intentionally leave blank. And then there's "Only Human," a mighty rocker with keyboards and bass in the frontline, building the base through which precisely distributed guitars fly smoothly along the verses, leading the listener to an absolutely excellent chorus that stick with you for days, and this set of details makes this song another great highlight of the album and thus deserves multiple and noisy auditions. "Standing Still" is a more contained rocker throughout the verses but revealing a more aggressive face in the engulfing refrain and that triggers more dynamism in the progress from the second part of the song. One more worthy moment on the album and that deserves your unrestricted attention.
And in the final stretch we have "Gravity", a cool and well executed rocker, followed by the great "Turning Pages" (a killer ballad with well worked verses and involving chorus, which is one of the album's great highlights). There's still room for the awesome "Fade Away," a rocker that figures among the highlights of the album with its simple, straightforward melodic structure, where keyboards, bass, drums and guitar go together in a harmonious ensemble that opens the way to "Go To War ", another well-presented rocker who, despite not having the same impact as previous songs, doesn't deviate from the direction set by tracklist and closes the album in a dignified way.
In short, "Only Human" brings Vega in great shape. It is a fact that the album doesn't bring anything new to the table, but I think it is better to have the effective "more of the same" aspect than to get a disastrous novelty. What the band presents us with are excellent songs, immersed in the formula that make Vega… well, Vega. And speaking of that, the band is in top form and newbies Mykey Kew (guitar) and Martin Hutchinson (drums) fit perfectly, and we should also mention Nick Workman's great work on vocals, which improves with each new effort. I like the fact that Vega remains faithful to the sonority that shows us who they are, not embarking on the trap of obviousness or going down an easier path. The cohesion of their albums is laudable and that is one of the reasons why I became a fan of the guys. In addition, the songs of the band are shown in an upward curve and this alone is cause for celebration. So, I have absolutely no fear in pointing out "Only Human" as a worthy recommendation not only for Vega fans, but especially for any contemporary melodic rock enthusiast.
Vega's "Only Human" is out now, on Frontiers Records.
Categories: Album Reviews