| | |
| --- | --- |
| Posted on May 8, 2018 at 11:10 PM | |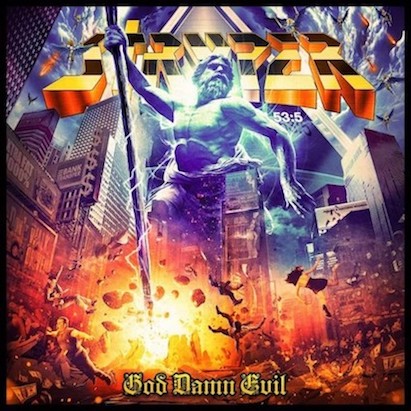 Stryper – God Damn Evil
Written by The Rock Man
Most bands are lucky if they get a shot at the big time. And if they get their big break, their time in the spotlight can be fleeting or everlasting - you just don't know. It's also fair to say most bands don't hit the pinnacle of success achieving gold and platinum album sales, break up for ten years and then reform only to go onto greater heights. But most bands aren't Stryper.
There has always been a steely determination about this band from day one, and after reforming in 2003 their resolve has grown. The results of this have shown in their music in recent years, you just need to look at recordings like No More Hell To Pay and Fallen to understand what I'm talking about. To further strengthen the case, the band's new album God Damn Evil reinforces their stance on delivering positive, uplifting, Christian values blended with bone crunching, face melting metal music.
The first cut on this new record is Take It To The Cross and here Stryper attempt to break new ground, or at the very least expand the framework in which they operate. The track bears some resemblance to what you might expect from a Stryper song during the verses but when the aggressive or Death growl style vocals, aided by guest singer Matt Blanchard (Shadows Falls), kick in for the thrashy chorus it leaves me a little confused to say the least. I've never understood why bands go down that path when they have such a talented vocalist already in the band; for me it just ruins the music.
From here we launch into the next track and single from the album, Sorry. This is a classic Stryper anthem in every way possible: groove-laden drums, melodic attacking guitars and soaring vocals over a bed of perfect harmonies. The title track is an awesome song; upon first listen I couldn't help but feel the opening riff had an AC/DC quality about it, this leads to a typical Stryper verse and flavour which then launches into an almost Quiet Riot type chorus... or this could just be me.
Over the past several years frontman Michael Sweet has released a handful of solo studio albums which have had a distinct sound compared to his work within Stryper and God Damn Evil features a couple of songs that feel more like solo efforts than Stryper tunes. Look to cuts like Sea Of Thieves, Own Up and You Don't Even Know. But it has to be said there are a number of tracks that follow the standard Stryper formula such as The Devil Doesn't Live Here,The Valley, Beautiful and the sole ballad of the record Can't Live Without Your Love.
God Damn Evil is the band's 10th studio outing and is their most expansive yet. The album features a number of tracks that will have appeal to a modern generation of metal fan but at the same time has enough material to satisfy the die-hard old guard. It's clear that there is still a lot of gas left in the tank for Stryper and they aren't showing signs of slowing down, the direction they choose to go from here will be exciting to watch.
Categories: Album Reviews