| | |
| --- | --- |
| Posted on May 8, 2018 at 11:00 PM | |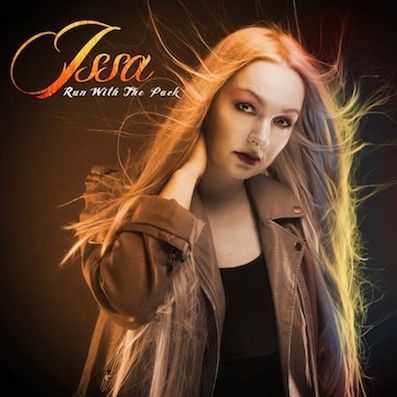 Issa – Run With The Pack
Written by The Rock Man
Simply Brilliant. These two words best describe my thoughts of Issa Oversveen when I first heard her music way back in 2010 on her debut album Sign Of Angels. Since then Issa has spent the last eight years building an impressive body of work with records such as Don't Stop, The Storm and Crossfire, and each time I'm drawn back to that phrase "Simply Brilliant"... but why?
Firstly, because in this day and age of deposable bubble gum hits, complex technical metal opus' and fast talking hip-hop, gangster-wannabe rhymes, her music is, well, refreshingly simple in its nature. In the tradition of great female rock singers that have come before her, such as Ann Wilson (Heart), Pat Benetar, Lita Ford, Janet Gardner (Vixen) and Lee Aaron, Issa just sings the song! There's no need for multi-layered vocal acrobatics or trying to create the most grandiose performance ever seen by mankind. Lyrically the songs themselves are relatable, everyday stuff that is relevant to most of us. And musically it's basic chugging melodic guitars and rhythms on a bed of toe tapping drum beats.
Which secondly, therefore brings us to the brilliance of such an approach. In any successful endeavour you need to know what your product is and who your market demographic is and clearly Issa has identified both of those criteria as she's demonstrated time and again on her albums to date which includes her new record Run With The Pack.
The album explodes into action with the killer Am I Losing You. Immediately with this one I'm taken back in time to the feel of her first album which I mentioned earlier. The guitars seem heavier and more upfront and present, rather than on a par with the keyboards as found on her last record Crossfire. This is a very good starting point and brought a smile to my face. The title track offers lots of melodic bite and punch and very quickly a pattern is set for the remainder of the record.
Sacrifice Me is a very gritty guitar sounding, modern day mid-tempo ballad featuring guest vocals from Deen Castronova (Journey/Revolution Saints). This turns out to be quite the pair as they complement each other's differing tones rather well. As the album unfolds the references to her early recordings continue in the form of rockers like How Long, Closer To You and Come Back Again.
There is no shortage of ballads however on Run With The Pack and there are a number of them that hit the mark of what is expected on these kinds of albums. While The Sound Of Yesterday, Talk To Your Heart and Bittersweet are solid offerings, the standout moment is Everything To Me which starts off as a sensitive piano driven track that later explodes into an absolute guitar crunching monster; giving even more power to Issa's passionate vocal performance.
Let's be honest, Run With The Pack isn't going to win any major awards or burn up the charts, but that doesn't mean this isn't one hell of a quality record. With the exception of Alessandro Del Vecchio on keyboards and as the album producer, there aren't any larger than life superstars playing on here either, but that doesn't mean the musicianship isn't top notch, grade A executed. And while the real star here is Issa, herself, everyone plays their part nicely to create one of the most enjoyable music moments you'll have this year.
Categories: Album Reviews