| | |
| --- | --- |
| Posted on May 5, 2018 at 8:15 PM | |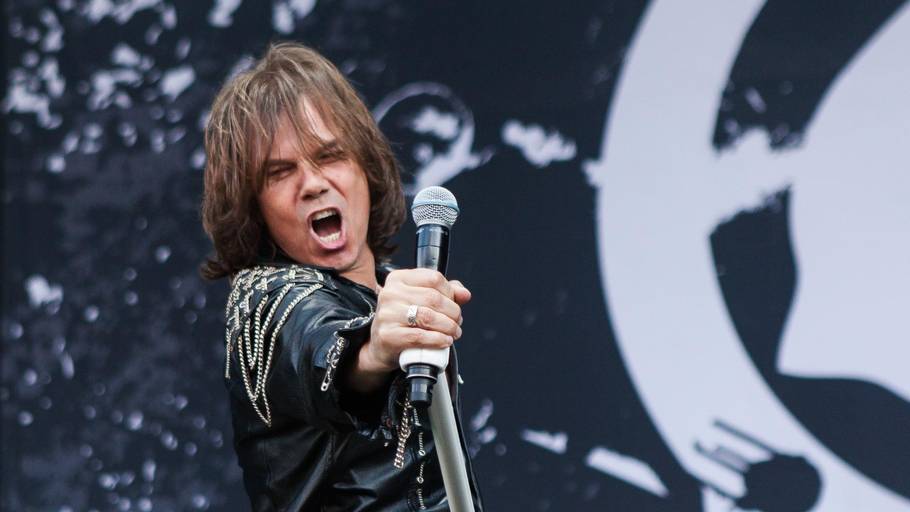 Swedish hard rockers Europe began their recording career in modest fashion. Their self-titled debut album of 1983 was a solid offering but outside of their native Sweden it failed to set the world on fire. The follow up album, a year later, Wings Of Tomorrow, showed promise and marked improvement; but it was in 1986 with the release of one song about leaving Earth to explore the vast expanses of space that took Europe from a little know rock band to global megastars. From that moment on the foundations were laid for the band to be a major player in shaping the sound of '80s hard rock and its visual appeal. But like all things, there is an expiry date and that came in the early '90s. But fate didn't seem done with the band completely, and in 2004 the band made a return to the music scene with a body of fresh new songs on the album "Start From The Dark". This new rejuvenated band would go on to release several more studio albums and solidify their position as one of the best live rock acts going around. Surprisingly, after touring the world multiple times over, the band have never played to Australian crowds. But that is about to change. In May the band heads "Down Under" for a national tour to promote their new album "Walk The Earth" and celebrate their 30 plus year career. I caught up with lead singer and '80s pin up boy Joey Tempest to discuss the new disc, the forthcoming tour and of course THAT song.
Rock Man: Congratulations on an outstanding recording career that has spanned three and a half decades and brought you enormous worldwide success. When you first put this band together back in 1979 under the name Force did you dare to dream that this kind of success was possible?
Joey Tempest: No I don't think you do that when you're that young. I met John Norum [guitarist] when I was 15 and he was 14 and we became friends. We started Force a few years after that and I suppose we were just driven, you know? We had something in common and we started rehearsing a lot and going to see shows together, we went to see Deep Purple when they came back in '84, we went to see Rainbow, early Whitesnake and Thin Lizzy, a lot of Lizzy shows in Stockholm. We were just dreaming about being a touring band but you could never see that far into the future. After 11 albums to still be on the rock map and doing good stuff and getting good reviews and still being here, no you don't think about that really, you just think about one year ahead back in those days.
RM: For the first time in the band's history you're coming to Australia this month for a national tour. It's fair to say this has been a while in the making but we're very excited to having you come down here. What have heard about Australian audiences and what can fans expect from the shows?
JT: Well, we're meeting up to talk about this setlist. We want to design it especially for Australia, we're trying to make it over two hours and we're trying to make it interesting as far as spanning our whole career. We're doing the big songs of the '80s of course, and a few new ones and a few very old ones as well so it will be a career spanning show. But what do we know about Australian fans? We know that they have been there all throughout these years because we had a guy working for us that grew up in Australia and he always told us "You gotta get over there! You've got fans over there and your records have been played on the radio, you have to get over there". Also over the years we have seen on social media that we have a lot of fans in Australia. But on every album we had asked our manager "Can you try and get us to Australia? Check with promoter's agents" and it has never really come together until now with our new management. The crew and the band are very excited; this will be the highlight of the year for us.
RM: Is there a particular moment of the show each night that you look forward to?
JT: Oh, that is hard. I do like all of it, I get into it after a few songs, I'm just into it completely. But this is an interesting setlist; we're going to play a few songs we haven't played in a while, so those are always exciting when you change the setlist a bit. I think there are going to be a few moments in those early shows that are even exciting for us.
RM: Congratulations on the success of the current album Walk The Earth. It's been several months since its release, what kind of feedback have you received?
JT: Well, it's kind of a miracle isn't it? Classic Rock Magazine, the biggest rock magazine over here, reviewed it and said it was maybe the best Europe album ever and it had some great stuff on it. Also, we won a Grammy in Sweden just a few months ago. It's amazing that on our 11th album that we are getting a lot of respect and a lot of good reviews and the song Walk The Earth has got the biggest reception since 20/30 years ago. So we have a song there that is really getting popular with the fans as well, so it is a really big time for Europe. The last two albums we worked with Dave Cobb, Grammy award winning producer out at Abbey Road Studios, and we are on a really interesting adventure in the studio. But obviously live, we play a lot live and we're doing a lot of shows this year.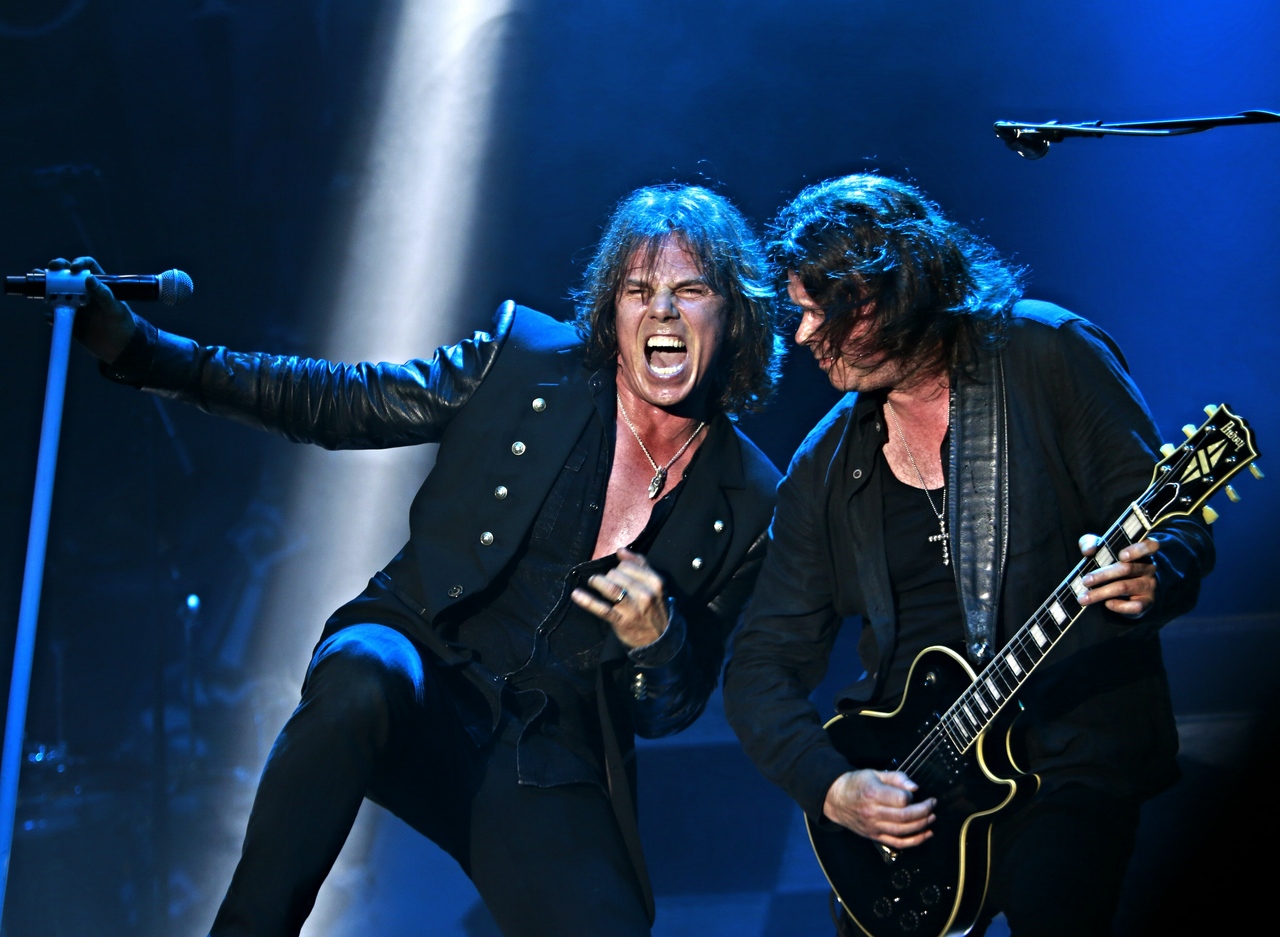 RM: I know you've spent the better part of the past 30 odd years talking about The Final Countdown and that there is more to this band than just this one song. That said, how does a simple song about space exploration become one of the biggest rock songs of all-time?
JT: Yeah, good question! It's a song from the third album, the opening track from the third album; but the main riff I had in my head though was in school, back in college and it's just one of those songs, it's like a soundtrack really. It was very long and we never thought it would be a popular song as such. We liked it and we wanted to have it in the show but it's amazing, it's really living its own life out there. But for us, it's part of our live set, it's one of our songs and it's a good song live, we enjoy playing it live, we don't have to rehearse it or anything [laughs] and we love the connection with the audience doing that song as well. Yeah, it's amazing that this song has taken on this life that it has.
RM: When it came time to writing The Final Countdown album, was there a moment at any stage where you looked at each other and sensed "We're creating something really special and unique here"?
JT: Yeah, well with the third album we had just done a deal with CBS/Epic records in New York and we got introduced to Kevin Elson, the producer who had produced Journey and other bands and it was happening for us. We had gotten a new record deal in America and a new producer and we started writing a lot more and yeah, there was a sense that it was going the right way, but we worked hard on the writing and on the producing and in the Europe camp we had a good confidence about the third album. But we never dreamed that it would take off, you know, number one everywhere and touring everywhere and that was the amazing bit.
RM: 30 years ago you released the Out Of This World album. Does the band have any plans this year to release any special anniversary editions or packages for that record?
JT: There's no concrete plans. I know the album is going to be reissued and that's a good thing with some new liner notes. You know, we are touring so I'm sure we'll play an extra song from Out Of This World or something this summer and next year. So, yeah there are a few small things but there are no major plans.
RM: I'm not sure if anyone else shares this view, but I hear the band's sound in three very different and distinct phases. Phase one: the first two albums (Europe and Wings Of Tomorrow) Phase two: The Final Countdown, Out Of This World and Prisoners In Paradise. Phase three: everything that has followed Start From The Dark. So which phase is the real Europe?
JT: Yeah, it's a good question and a good way of separating them. The first two were kind of progressive, we were finding our way, they were a bit heavier, more alternative hard rock perhaps. But on The Final Countdown, Out Of This World and Prisoners we were part of the '80s, working with big producers and writing certain songs that fitted into that era, without thing about it really. When we started out again in 2004 this was completely our journey, we own the music, we licence it out, we have our own company running the whole thing and we wrote and decided everything from 2004 onwards. So for us this feels like the true journey that we enjoy in the band, but we respect that people like different eras of the band. But I think the last three albums of the band are really organic; they're straight from out soul. We recorded them live, we started recording live again and I think the last three albums are what we are about. That's how we sound when we play live and in the studio, we don't do too many fixes or overdubs, this is how we write together, the early period, the second period you mentioned, I wrote most of that, at least 80-90% of that. These days we write all of us together, and the last period you mentioned is true Europe in that sense. Taking that into account, in the '80s that was the producer's sound, that was the studio's sound and that was the world we were living in and that is how the band sounded.
RM: Debate has raged for some time now about the validity of full length studio albums in this current economic and downloadable climate. Has the full length album had its day or does it still have a place in today's world?
JT: No, it's still there and it's still important, especially for people who love rock music and album oriented music and guitar players, drummers, keyboard players, you know, that love musicianship and everything. But the times are definitely changing, the music business is definitely changing, but vinyl is coming back in a big way, every record now is released on vinyl, we release vinyl too. That means long play, that's 10 songs at least, so the future is still there for vinyl and 10 song long play albums. There are a lot of music fans out there but the younger generation however are now on a journey picking songs here and there, but I think they will also start collecting records and collecting albums. So I think there is a future for albums, we definitely think so, we prefer doing albums, it's a journey, it's exciting to get a whole album done and to buy a whole album, I still think that myself.
RM: Where do you see the music industry heading over the next decade or so?
JT: Well, there's going to be a lot of streaming, there's no doubt about it, it's happening. Streaming straight into your home and you'll just put the artist you want into your home system and in every room. So playlist is the future but that doesn't mean that if you like an artist you want to hear the whole album, so albums will still be there. The problem is, what we need to do is we need to support new and young bands and we need to change maybe the deals that are made for streaming for those companies. They need to be geared more towards new bands and to make sure that they get enough royalties to build a business, that is very important.
RM: Yeah, for sure. So just finally, in the distant future when people are talking about Europe and their place in rock history, what do you hope the legacy of the band will be?
JT: Well it is really interesting, they had a regular line up after 30 years, 11 albums, maybe a band that had two periods, they made it back, they had longevity and they made it back. You know, just one of those bands. I love bands like Rush and Deep Purple that have a long career and back catalogue and they have ups and downs, twists and turns, but they become legendary and they become an arena band. We always had that in the back of our minds, keep going, keep producing, keep digging deeper, do great stuff and it'll all come together.
RM: Once again, congratulations on the new album Walk The Earth and the upcoming Australian tour and a heartfelt thank you for all the great music you've given the world over your career. On behalf of everyone here at Full Throttle Rock I would like to wish you and the band all the best for the future.
JT: Thank you so much for supporting us and we look forward to seeing you and the fans in Australia. We are all looking very much forward to it.
For more information about the band visit the official website at: www.europetheband.com 
Europe – Walk The Earth is available now on Hell & Back Recordings (Silver Lining Music)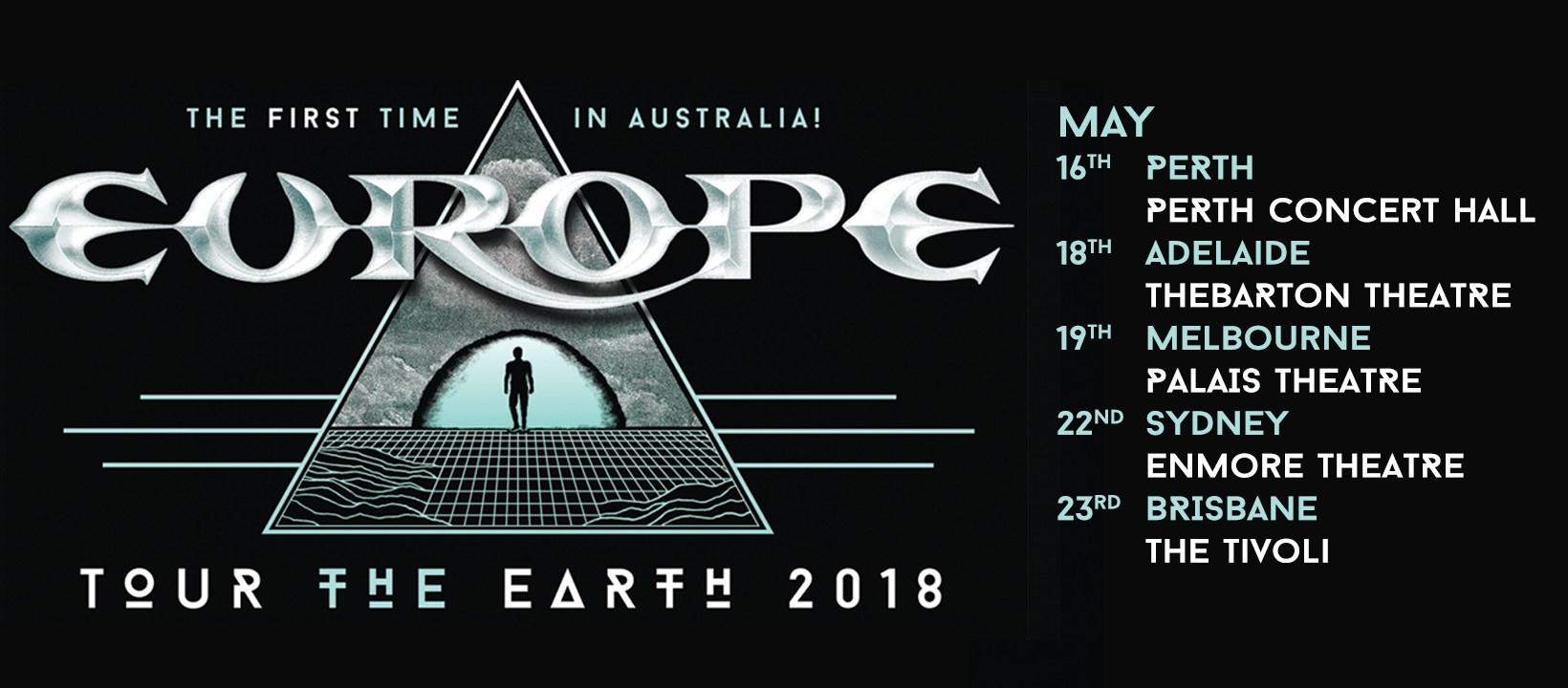 Categories: Interviews