| | |
| --- | --- |
| Posted on March 28, 2018 at 12:45 AM | |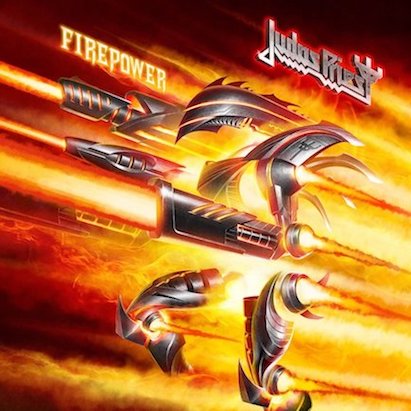 Judas Priest – Firepower
Written by The Rock Man
While some quarters of the music industry and music buying public debate whether rock and roll is dead, one thing is crystal clear... metal is alive and thriving - just ask British veterans Judas Priest. Another ridiculous argument that has been doing the rounds for the past several years is that no one wants to hear new music from these old timers, again, let's refer to Judas Priest - because their new scorching 14 track studio album, Firepower categorically puts these questions to bed.
While some bands of a certain golden vintage call it a day, or debate pulling the plug, Priest continue to forge ahead and, with devastating results like Firepower up their sleeves, why wouldn't they? The band have stated on numerous occasions they don't record the same kind of album twice. Clearly there's something wrong with my hearing or interpretation of this record because I couldn't help but find similarities to past efforts such as Defenders Of The Faith, Painkiller, Angel Of Retribution and Redeemer Of Souls. Personally, I found this to be a good thing as the aforementioned albums are unrivalled examples of Priest at their best and to combine elements of those works in one single production makes Firepower a blistering experience.
Priest have always had a knack for creating these larger than life characters such as The Sentinel, Painkiller, Dragonaut and Night Crawler, to mention a few. On Firepower the band introduces their fans to a whole new collection of colourful and menacing characters like Spectre, Necromancer and Lone Wolf, and in time, these too will become much loved additions to the Priest song writing legacy.
But there's more on offer here than just scary monsters and those heroic warriors who slay them, for example on Sea Of Red the band pay tribute to the many fallen soldiers who have paid the ultimate price for our freedoms and on Children Of The Sun they take an environmental approach to how mankind is destroying the planet. While the lead single Lightning Strike is full to the brim of classic Priest metaphors as it examines defiance against angst based exploitation from figures of power or authority. And as I discovered very quickly, all of these songs on this record must be consumed at maximum volume whilst in the car.
From a production point of view, the combination of Priest and Tom Allom was always a winning one during the 1980s. It's been a very long time since Allom helmed the production duties but finally he has returned and been paired with Andy Sneap (Accept/Saxon/Megadeth) and the end product is a clean, sharp and exhilarating sound. As for the band itself, once you've hear the guitar work from Glenn Tipton it's hard to reconcile that he's been battling Parkinson's Disease. For over four decades he's been a leading figure in the world of metal guitar and his work on this record further cements his status as a true guitar legend. His partner in crime, Richie Faulkner brings a freshness and youthful energy to the overall guitar sounds which gives vocalist Rob Halford a solid foundation to do what he does best... be the 'Metal God'. In my opinion Halford is the best metal singer going around bar none. On Firepower when he needs to soar he still can, when he needs to rock he still can and when he needs to be emotional, well you get the picture.
What Firepower is in short, is a testimony to the resolve and staying power of this band. The fact that they were not included into the 2018 class of the Rock and Roll Hall of Fame is quite simply disgraceful and outrageous and is further evidence to the lack of validity and credibility of that organisation.
That being said, everything that is great about heavy metal music is contained in this package. Don't bother spending the rest of 2018 looking for the 'Album of the Year', it has already arrived rock and rollers, and it's called Firepower.
Categories: Album Reviews