| | |
| --- | --- |
| Posted on March 28, 2018 at 12:35 AM | |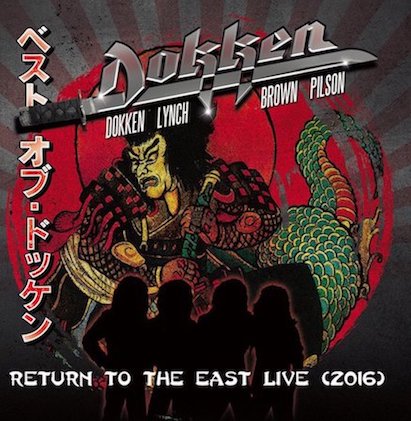 Dokken – Return To The East Live
Written By The Rock Man
Dokken.... just one of the standout hard rock acts of the 1980s. I spent many a night back in those days bathing in the glory of Don Dokken (vocals), George Lynch (guitar), Jeff Pilson (bass) and "Wild" Mick Brown (drums). To this day some of those albums they recorded in that period would easily make it into a Top 30 greatest album list if I ever had to make one. There is something intangible, an x-factor, a certain type of magic that happens when these four guys get in a room together and play music. And yet they are in my view, the most dysfunctional band in the history of rock music.
Sure, Dokken and Brown have continued the band over the years with various other guys coming in to add their stamp on the legacy, while Pilson has found a home in Foreigner and Lynch has been the driving force behind Lynch Mob. But this machine will always be at its optimal best when this classic line up is in play. The problem has been getting Dokken in the same room with Lynch, so it came as a shock when it was announced in 2016 that the classic line up would perform six sold-out shows in Japan in October. Fortunately, somebody associated with, or in the band, had the good sense to record the event for a live CD/DVD titled Return To The East Live.
Before I mentioned the magic of this combination of players, to put an exclamation point on that statement the band have recorded a brand new studio track titled It's Another Day which kicks off the record. As you would expect this is classic Dokken and if you bought one of their records during the '80s then you know what's coming your way. It's a solid rocker overflowing with melody, punch and outstanding vocal harmonies... Oh yeah, and a scorching trademark Lynch guitar solo.
With that out of the way the live set begins with Kiss Of Death and if anyone had any doubts if the band still had "it" the opening few bars of this rocker puts any fears to rest. From this point on it's one classic track after another: Breaking The Chains, Into The Fire, The Hunter, In My Dreams, Unchain The Night, Dream Warriors... they 're all here. But for album highlights I couldn't go past the blistering pace of Tooth And Nail and the beautiful masterpiece Alone Again. This version features a two-and-a-half-minute intro, which could have been a little shorter and in addition a good portion of the song is acoustic driven before the band explodes into full ballad mode. Regardless of whether it's a live version or the studio track Alone Again is always an awesome cut. To round out Return To The East Live Dokken have included two re-recorded acoustic tracks, the brilliant Heaven Sent and Will The Sun Rise, both A+ performances.
The only sadness that I took away from this record is that this was a one-time deal, at least that's the line Don Dokken is selling. I would love for this classic line up to reform full time and record a new full length album, but while the current incarnation of Dokken is in full swing it's hard to see that ever happening. With that said I feel blessed that the classic band members have given the world one more piece of magic. Return To The East Live is an absolute must have for any fan of Dokken and '80s hard rock.
Categories: Album Reviews