| | |
| --- | --- |
| Posted on March 28, 2018 at 12:25 AM | |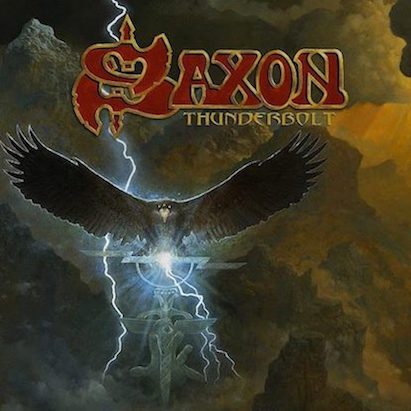 Saxon – Thunderbolt
Written by The Rock Man
I can't think of too many bands or artists that have consistently released quality material time and time again for such a lengthy period as U.K. heavy metallers Saxon. This grand statement isn't just restricted to the boundaries of heavy metal; but I feel it encompasses the wider music industry making it a much bolder declaration. Consider this: Saxon have been quietly going about their business of hard rocking for close to four decades now and throughout that time they have never bowed to public trends or flavours of the moment but have stayed true to the ideals of their brand of rock and roll and Thunderbolt, the band's new album, continues that tradition.
You would think that after recording 22 studio albums things might have become a little stale, repetitive and lacking inspiration and I'm sure there are bands out there that have fallen on such times, but this is not Saxon. Somehow, to this day, they manage to produce records that have the same fire and enthusiasm as they did way back in 1979 when they released their self-titled debut album. I'm sure this is something a lot of bands wish they could replicate.
In this day and age of multiple sub-genres of metal that can often be highly complex, technical, over produced and overrated blasts of noise, Thunderbolt reminds us how good traditional heavy rock can be. This new outing gets underway with the atmospheric building instrumental piece Olympus Rising which effortlessly explodes into the title track. All the hallmarks that have sustained Saxon over the generations are alive and present on this cut: passion, high octane energy and a take-no-prisoners attitude. As you would expect the twin guitar attack of Doug Scarratt and Paul Quinn is relentless and as solid as ever and the vocal fury and gusto of Biff Byford puts his much younger counterparts to shame.
From here Thunderbolt settles into a foreseeable groove and highly enjoyable ride. Nosferatu (Vampire Waltz) inspired by the 1922 silent film of the same name is, as you would expect given the subject matter, heavy, dark and brooding. They Played Rock and Roll is a fitting tribute to countrymen Motorhead and their iconic lead singer, the late Lemmy Kilmister. The track, much like its focus of attention, is fast, uncompromising, pedal to the metal. The following track, Predator, is musically a solid effort with Byford at his consistent best; but the whole thing is spoiled by guest vocalist Johan Hegg (Amon Amarth) with his ridiculous growl vocal approach. This type of singing just isn't my thing and in my opinion ruins the whole song, which is a pity.
The balance is quickly restored however by the likes of rockers such as Sons Of Odin, a blend of melodic metal melodies and Viking adventures; Sniper, which given the highly charged debate over gun control, may or may not be in good taste depending on your viewpoint and Speed Merchant, a full throttle look at the world of street car racing. Fast cars and metal music are always a lethal combination and this track with its blistering guitar solo is no exception and another worthy addition to a long list of recorded songs about the topic.
Of late producer Andy Sneap has been responsible for a number of high quality, sharp, well-crafted projects. You only have to look at his work with acts such as Megadeth, Accept and more recently Judas Priest to get an understanding of what I'm talking about. Thunderbolt goes a long way to solidifying his reputation.
I guess when I really think about it this same sentiment is true of what the album does for Saxon's legacy. Not that they need to enhance their status within the metal community at this stage of their careers, but it is a timely reminder of how great and influential this band has been over a lengthy stretch of time.
Categories: Album Reviews