| | |
| --- | --- |
| Posted on February 18, 2018 at 11:10 PM | |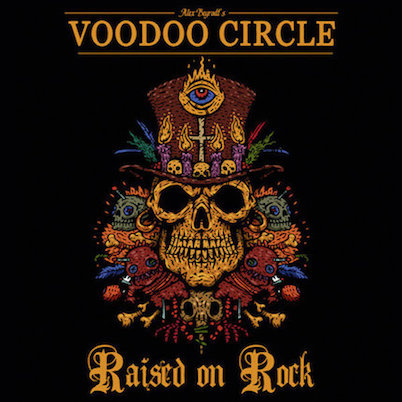 Voodoo Circle - Raised On Rock
Written by The Rock Man
The hard rock and metal scene appears to be at an interesting stage of its development at the moment, the more we go further away from the 1980s the more we are musically drawn back to it. Over the past decade or so more and more bands have found inspiration from the era and the influence has resulted in some memorable and breath-taking works. Voodoo Circle have long dabbled in this homage to bands of the '80s and this theme continues on their latest effort, appropriately titled Raised On Rock.
After the disappointment of their previous release Whiskey Fingers (2015), I had a hint of hesitation about what Voodoo Circle were on the verge of serving up this time around. However, it quickly became apparent that Raised On Rock was going to return the band to the lofty standard set on albums such as Broken Heart Syndrome and More Than One Way Home.
Guitarist and band architect Alex Beyrodt (Primal Fear/Silent Force) has always had a strong link to musical influences of the 1980s and once again that passionate direction comes shining through on Raised On Rock. From the word 'go' the album spirals into a kaleidoscope of Rainbow/Whitesnake/Yngwie J. Malmsteen and Deep Purple textures and mastery. The 11 track/51-minute running album explodes with Running Away From Love, a cut bursting with an infectious melodic chorus and killer take-no-prisoner riffs from Beyrodt. The track also introduces fans to new lead singer Herbie Langhans (Sinbreed/Seventh Avenue) who takes over from the departing David Readman. I had my doubts about the change initially, but it didn't take me long to appreciate the high quality, melodic, vocal dynamics Langhans has brought to the fold.
From here the band launch into the single Higher Love, again, another example of tons of melodic swagger and punch; and great use of the voice box effect made popular during the 80s by acts such as Bon Jovi, Scorpions and the like. On Walk On The Line the band has the same musical vibe as most of the tracks from Whitesnake's 1987 record. This rocker draws heavily from the familiar guitar sound of that record as does Just Take My Heart.
Where Is The World We Love fills the big arena power ballad quota of the album, while Chase Me Away is a big sounding heavy blues infused ballad. Thoughts of Gary Moore came rushing to mind. Unknown Stranger ventures into early '80s Deep Purple territory and then bringing the album to a stunning and somewhat satisfying conclusion is the acoustic driven rocker Love Is An Ocean, think Cinderella meets Deep Purple on this one.
Every track on Raised On Rock could be looked at as a salute to artists of that by-gone generation of hard rocker. While there are some bands out there that try desperately to steer clear of their past, thankfully there are still bands like Voodoo Circle trying to keep the magic of that golden era of music alive. Raised On Rock is certainly one of the better examples of that and worthy of a listen or two if you grew up with music from this wonderful decade; and it won't take long after you've pressed play before you're transported back to a more entertaining and care free time.
Categories: Album Reviews