| | |
| --- | --- |
| Posted on January 22, 2018 at 7:35 PM | |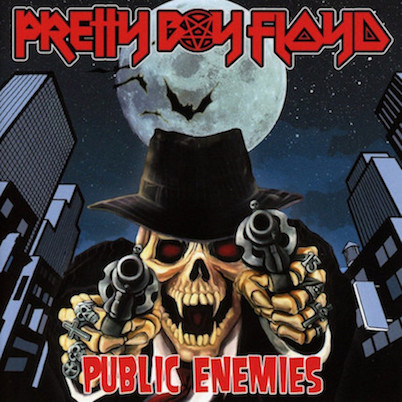 Pretty Boy Floyd - Public Enemies
Written by The Rock Man
Despite its December 2017 release date, Pretty Boy Floyd's new album Public Enemies looks destined to become one of the must have albums of 2018. For those of you not familiar with the Pretty Boy Floyd story, the band rose to public attention back in 1989 with their debut album Leather Boyz With Electric Toyz. While their counterparts like Motley Crue, Poison and Ratt were at the height of their respective careers, Pretty Boy Floyd were just beginning theirs. But then came that pesky Grunge Movement and like so many glam/hard rockers at the time the next decade or so would be difficult.
Vocalist Steve "Sex" Summers would lead the band through various incarnations as the band was caught in a vicious cycle of breaking up and reforming, but it appears that the band is in a more stable place right now with the release of Public Enemies. Summers is joined by original guitarist Kristy "Krash" Majors, who has had a bit of a revolving door policy with the band over the years. The pair appear to both be on the same page and the results speak for themselves as Public Enemies is 44 minutes of pure '80s infused sleaze rock of the highest order.
The album kicks off with a short one minute and thirty-three second piece titled S.A.T.A which in my view adds nothing of value to the album overall and should have found its way to the cutting room floor. With that out of the way the real entertainment begins with Feel The Heat, a cut that delivers heavy on the driving, take-no-prisoners guitars, throbbing double bass drum action and soaring Crue-esque style vocals. From here we quickly settle into a rhythm with more 80's ambience numbers such as High School Queen, Paint It On, We Got The Power, Do You Wanna Rock and 7 Minutes In Heaven.
We Can't Bring Back Yesterday" serves as the album's only power ballad and is a 5 out of 5 gold star moment; if this track was around back in the era of I Remember You (Skid Row) or Every Rose Has Its Thorn (Poison) then it's safe to say this would have been a massive worldwide hit also. Public Enemies takes you back to the electrifying '80s and if released back in the day would have been the perfect companion to Leather Boyz With Electric Toyz.
It's a shame, in my view, that Pretty Boyd Floyd didn't catch their big break a few years earlier; if they had they could've had a massive impact on the glam/hard rock scene of the era. But unfortunately like I mentioned before they were hamstrung by the changing musical landscape and living in the very long shadow of successful acts which had come before them. But with grunge music long behind us and the retirement of bands like Motley Crue, maybe now is the perfect time for Pretty Boy Floyd to have their moment in the spotlight.
Categories: Album Reviews