| | |
| --- | --- |
| Posted on December 18, 2017 at 10:25 PM | |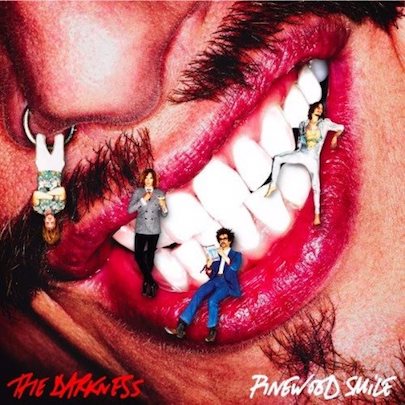 The Darkness – Pinewood Smile
Written by The Rock Man
In this day and age of extreme political correctness it's refreshing to know that there is still the odd rock and roll band out there that is willing to, not only bend the rules, but break them on occasion. After all, isn't rock and roll meant to be dangerous, rebellious and fun? Listen to many of today's artists and most of them are so serious and so glum and everything is a case of "The sky is falling!" Then you have a band like The Darkness, who you would think by the name alone is all doom and gloom, but on the contrary is the complete opposite.
Since their arrival in 2003, these UK glam rockers have been on a mission to bring the fun back into rock and roll with their unique blend of '70s inspired rock flare and sharp-witted narratives. Following the release and success of the debut album Permission To Land the band has gone from strength to strength with each passing release and now comes their newest instalment Pinewood Smile.
The album explodes into action with the first single All The Pretty Girls. This is trademark The Darkness with its catchy driving guitar hooks, foot stomping drums and high pitched vocal acrobatics. Lyrically the song explores the sexual appeal of fame and fortune: "All the pretty girls like me for who I am/All the pretty girls when the record goes platinum/Plenty of action, massive attraction when you're selling out stadiums/All the pretty girls and their mums". From what I can tell, Buccaneers Of Hispaniola is an exercise in how high vocalist Justin Hawkins falsetto can soar and on this number he exceeds his own benchmark.
Solid Gold is a tongue-in-cheek look at the music industry and the trials and tribulations of getting a record deal. Why Don't The Beautiful Cry draws heavily on their '70s influenced upbringing, especially the Dan Hawkins guitar solo which has traces of Queen's Brian May throughout. As always The Darkness' warped sense of humour is on full display, for example check out Japanese Prisoner Of Love about life in prison: "Sentenced to the big house/Jumpsuited, shaven and de-loused/Solitarily confined, taken from behind/By a surly white supremacist named Klaus" or this from Stampede Of Love about overweight people in relationships: "You walked in and the ground shook/I can't believe how much food you took/You looked at me with those hungry eyes/You were eyeing up my fries/To the naked eye you're a perfect sphere/Stomach bulging out to here/I don't know if my heart can last/I ain't ever had a love this vast".
For those wanting more the deluxe edition contains an additional four bonus tracks. The main highlights here are Rack Of Glam which blends AC/DC's musical charisma with Freddie Mercury's vocal approach and Rock In Space which is a '70s glam rock meets the Daleks from Dr. Who kind of affair.
If nothing else, The Darkness are consistent when it comes to making music which is fun. Mind you, it may not be to everyone's taste and as I mentioned before political correctness and boundaries are throw out the door on any record from The Darkness. But their albums are always well crafted, well executed, polished affairs and in my view always a nice break from the mundane run-of the-mill sombreness of life's difficulties and worth the price of admission. Pinewood Smile has proven to be no exception.
Categories: Album Reviews