| | |
| --- | --- |
| Posted on November 6, 2017 at 9:20 PM | |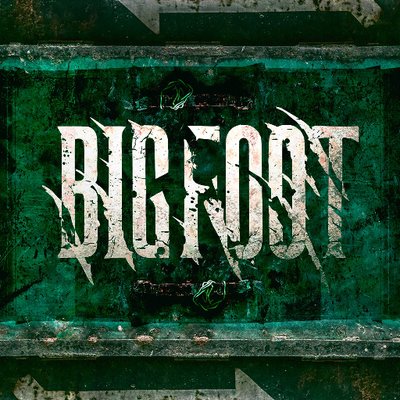 Bigfoot – Bigfoot
Written by The Rock Man
When you work in the world of music journalism as I do, you get bombarded by record company press releases and emails about the "next big thing" or newest "must have" product. So it can take a bit of time sorting through press release after press release trying to weed out the genuine article from the waste of time hot air, and occasionally I have gotten it wrong. For several weeks I received pressers about this band calling themselves Bigfoot who were on the verge of releasing their debut self-titled album. Initially I dismissed it thinking they were nobodies and not worth worrying about until I got sent a copy of their album. So for whatever reason I put it on... and what a revelation!
Instantly a flood of questions fills my mind like: "Who are these hard rock marvels?" and "Why am I only hearing about them now?" and "Where do they come from" and "Why didn't I pay attention to all those press releases!?". So let's break it down: firstly, Bigfoot are a five-piece band from Wigan, England who have released two EPs prior to the release of this full length album. The group consist of Sam Millar and Mick McCullagh on guitars, Matt Avery on bass, Tom Aspinall on drums and Antony Ellis on the mic. The band burst onto the music scene back in the spring of 2014 and have been growing a strong support base touring around their native UK and appearing at major music festivals such as Bloodstock, Hair Metal Heaven and Hard Rock Hell. Now it would appear the band is ready to unleash its fury on the rest of the world.
Bigfoot is an 11 track monster that will knock you clean on your ass. The disc explodes from the speakers in a hail of distorted guitars and deep driving rhythms with the opening song Karma. The track is a spirited take-no-prisoners cut that, not only reflects the energy and charisma of the band, but sets an uncompromising framework for the rest of the album. From here each track is better than the last and when you're able to produce that kind of gold standard of music the end result will always be nothing short of phenomenal.
It may seem a little unfair to single out a couple of tracks in such a consistently, fully developed, well-balanced body of work, but there are a few which stood out as focal points of the record. Take for example, The Fear, I Dare You, Freak Show and Uninvited which are all sold, hard-edge rockers deserving of maximum volume. In addition, the rockers are passionately supported by two ballad-ish tracks; the stunning, near six-minute Forever Alone and the near nine-minute opus Yours.
Throughout the record the guitar work of Millar and McCullagh is steely edged, assertive and gritty, but always loaded with tonnes of melody and punch. The drumming of Aspinall is fierce, dynamic and unwavering and is well supported by Avery's thrusting bass which adds extra depth to the overall sound. Vocally, Ellis is his own man and has his own style but from time to time I couldn't help but hear similarities to Danny Vaughn (Tyketto). That said, he has all the potential to become a star in the making.
It has been some considerable amount of time since I was last excited about the prospect of fresh blood entering the music scene with something solid and valid to offer. In a climate where the question "Is rock dead?" is often asked, for the first time in a decade or so I have optimism that the baton has been passed and the future secure. I know that's a lot of pressure to put on such a young band who've just put out their first album, but I feel super-confident Bigfoot are up for the challenge.
Categories: Album Reviews