| | |
| --- | --- |
| Posted on November 6, 2017 at 9:10 PM | |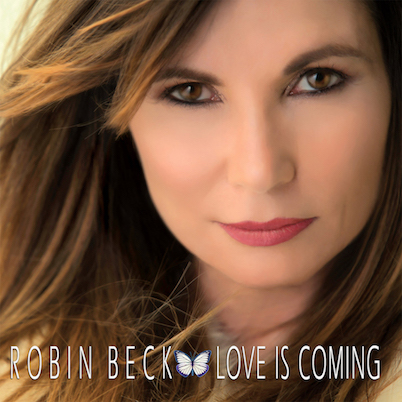 ROBIN BECK – Love Is Coming
Written by Juliano Mallon
It's absolutely impossible to talk about AOR without mentioning Robin Beck, one of the most known and respected names in the genre. With a solid career spanning more than three decades, Beck is known not only for her powerful vocals but also for the sweeping interpretations that are characteristic of her classic works; but also registered in more recent albums. The sound is not the same - and shouldn't be, anyway - but the quality of the recorded material is indisputable.
And this quality is abundant in "Love Is Coming," Robin Beck's newest effort and her first in four years. This work had the illustrious collaboration of none other than Clif Magness (another great name for the AOR universe who is back in the game with a long overdue new album in early 2018), in addition to veteran Tommy Denander and also the great James Christian. With a team of experienced musicians, great songs and an above-average vocalist, the end result couldn't be anything but spectacular.
Not surprisingly, the album is loaded with overwhelming rockers and always with a radio-friendly aura, as seen on the powerful "Island", on the exciting "On The Bright Side" and the explosive "Love Is Coming," all featuring a modern sound but without any excess. These are three songs worthy of multiple auditions and maximum volume, believe me.
Other awesome tunes include the great "Me Just Being Me" another highlight of the album and one that reminds me of the best moments of Sass Jordan, "Lost" and the surprising "Crave The Touch", as well as the fantastic "Girl Like Me", the greatest moment of the album, no doubt. All these songs deserve multiple auditions and maximum volume, as usual. And get ready for beautiful surprises while doing so...
But "Love Is Coming" also brings in more introspective moments, such as the ballads "In These Eyes" and "Here I Am" and the mid-pacers "On To Something" and "Warrior", the latter easily being the second major highlight of the album. Maximum volume, multiple auditions and no moderation are recommended.
In short, "Love Is Coming" comes to ratify the already known quality of Robin Beck as an interpreter. In addition, the album definitively establishes the more contemporary direction her recent works have been following. The collaboration with Magness (who produced the album with Christian) adds a lot of value to the new album, with well-constructed songs that could only have been performed by someone like Robin Beck. There is no doubt that "Love Is Coming" will surprise some and captivate others; but in any case, the versatility, skill and vocal excellence of Robin Beck are absolutely indisputable. In a time when many people talk about innovating and reinventing, Ms. Beck shows you how to do it.
"Love Is Coming" is an absolutely mandatory purchase. The album is in stores now, via Frontiers Records.
Categories: Album Reviews