| | |
| --- | --- |
| Posted on November 6, 2017 at 9:05 PM | |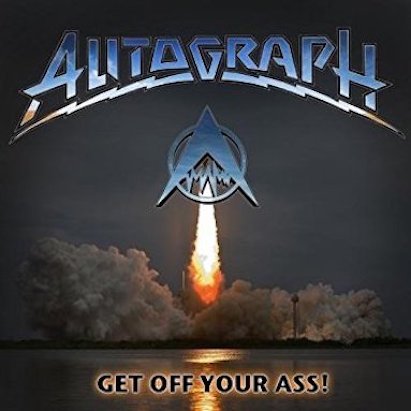 Autograph – Get Off Your Ass!
Written by The Rock Man
When I think back to 1984, I recall the majority of music fans in those days partying out to the sounds of Michael Jackson, Prince, Cyndi Lauper and Culture Club. But I was going down a different path. Back then I had just discovered Californian hard rockers Autograph, largely thanks to the T.V. show Miami Vice that featured their hit of the day Turn Up The Radio on one of season one's episodes. It's fair to say that I took to Autograph like a duck to water and from that moment until they disbanded in 1989 they maintained heavy rotation on my stereo system.
Fast forward through 24 years of nothing and some of the original band members reformed in 2013 to play a bunch of shows here and there. This new relaunched version, "Autograph 2.0" if you will, led by guitarist Steve Lynch, drummer Keni Richards and bassist Randy Rand, were now joined by new vocalist Simon Daniels. Unfortunately, Richards time in the band was short and he was replaced by Marc Wieland in 2014 and this line–up has been powering on since appearing at Monsters Of Rock Cruise, Firefest UK, M3 Rock Festival and releasing a 5 track EP titled Louder. But in 2017 the band takes things a step further by offering up their first full length album with this new reincarnation titled Get Off Your Ass!.
I have to be honest here, I wasn't sure what to expect from this new redesigned union or if they could deliver anything of relevance so I approached this with a fair degree of trepidation. However, to my surprise what I found was an album that not only stands up well against their back catalogue, but also promises a bright future for the band moving forward. A future that I didn't think possible without original singer Steve Plunkett at the helm.
The band has packaged a collection of 10 songs that make up the track listing for Get Off Your Ass!, although a handful of these cuts first appeared on the Louder EP. In a nutshell, the tracks marinate in '80s excess and it becomes blatantly clear as you work your way from track to track that chief architects Lynch and Rand have little interest in trying to reinvent the wheel and are happy bathing in the sunlight of their glory days.
For example, take You Are Us, We Ae You, here is a song which screams 1980s. The track features that familiar chugging guitar tone used so often back in the day and is driven by a strutting rhythm section that commands your feet to tap along. Lyrically the track celebrates the relationship between the band and its fans and in another life time could have easily passed as a KISS song. I Lost My Mind In America follows down a similar musical root: lots of self-assurance and groove and it boasts a big melodic chorus, although the guitars are a little meatier.
All I Own is a mid-paced ballad that offers the record a change of pace. Again, typical '80s in attitude with its big melodic chorus and propelling acoustic/electric guitar riffs. The title track explodes in a hail of guitar and drum frenzy before launching into a steady, reliable and standard chugging rhythm so often drawn upon within this style of music and so often with maximum effect and this is no exception. And if that wasn't enough Lynch lays down a pretty smoking guitar solo as well. A real treat comes at the end of the record with a live version of Turn Up The Radio which holds its own compared to the primary studio version and is a definite selling point of the album. My hat goes off to Daniels who does a sterling job of doing justice to the spirit and energy of the original vocals.
There has been a swag of bands that in recent times have tried to revive their careers with reinvented line-ups. Sadly, most of them just aren't able to capture the fire they once had, while others have found a way to not only re-engage with the past but clear a path for a strong future. Unquestionably Get Off Your Ass! shows that Autograph easily falls into the latter category.
Categories: Album Reviews