| | |
| --- | --- |
| Posted on November 6, 2017 at 8:50 PM | |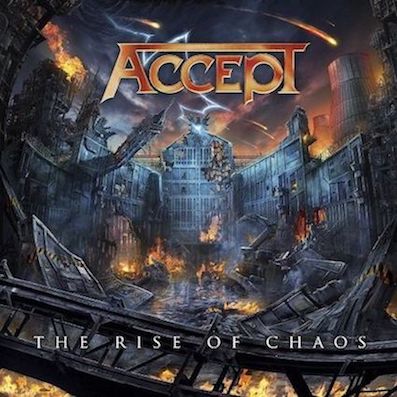 Accept – The Rise Of Chaos
Written by The Rock Man
Acclaimed German metal pioneers Accept are one of those examples of bands of a certain vintage that prove retirement is not, and should not be, an option. For over 40 years they have produced quality material time and time again and have out-lasted all the trends of the day. I have a strong belief that when you know who you are as a band, know who your audience is and stay true to that formula, you'll always be successful. Accept would appear to support that theory. Adding further weight to this argument is the band's latest effort The Rise Of Chaos, which in short, can only be described as a sold ball of heavy metal mastery.
Guitarist Wolf Hoffman and bassist Peter Baltes have been the driving force since the bands conception back in '76 and remain so to this day. As for vocalist Mark Tornillo, this is his fourth outing with the band and with each record I feel he consolidates his place in the legacy of Accept. The album also introduces fans to newcomers Christopher Williams on drums and Uwe Lulis on guitar.
For those looking for a little more lyrical substance than the standard 'boy meets girl' tag-line, the album is full of thought provoking themed tracks. For as long as I can remember a popular source of inspiration for metal bands throughout the ages has been the destruction of the human race and/or Mother Earth. On The Rise Of Chaos cuts such as Die By The Sword, Race To Extinction and the title track serves the album adequately in this regard.
Koolaid, in short, is a cautionary tale of extreme religious cults. More specifically the 1978 Jonestown massacre where cult leader Jim Jones forced 900 of his followers to participate in a mass murder-suicide. For those of us that grew up in the vinyl/8 track era there's Analog Man. Here Tornillo laments a simpler time before the world was overtaken by technology with lyrical gems like "I'm an analog man / trapped in a digital world" and "My cell phone is smarter than me", and this is a song I can honestly relate to.
On Hole In The Head the band focuses on breaking free of the bonds of addiction. The track is written in such a manner that the "addiction" can be interpreted however the listener chooses. Of course anytime you have a metal song called No Regrets it's pretty obvious what you're going to get. In a similar vein, What's Done Is Done shares a simple message that: 'the past cannot be changed, accept what has happened and move forward'.
Once again the band has turned to producer Andy Sneap (Saxon/Megadeth) to helm the production duties. And why not? Sneap has produced the band's previous three albums and on those works the results were stunning. Again, the sonics are well balanced, clean and crisp and you can easily identify what each band member is doing and the ratio of vocals to instrument is spot on.
Overall, The Rise Of Chaos is another durable achievement in the band's extensive contribution to metal music. And with strong efforts like this under its belt, it's easy to see why Accept have become one of the powerhouses of the German music industry over a four-decade reign.
Categories: Album Reviews