| | |
| --- | --- |
| Posted on September 11, 2017 at 11:15 PM | |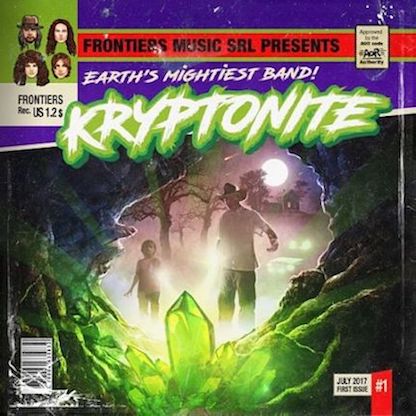 Kryptonite – Kryptonite
Written by Juliano Mallon
Ah, what could be said about Serafino Perugino and his wacky ideas? The president of Frontiers Records is already well-known for the projects he idealizes and, as everyone knows, it is a fact that many are shameful while others are surprisingly great.
The quartet christened Kryptonite fits the last description. Bringing together well-known figures from the melodic hard rock universe such as The Poodles, Treat, Palace and Eclipse, the project debuts with the self-titled album and, if it's nothing new, it's not exactly "the same old thing". This is because the sum of each of the members - and the musicality they bring from their respective bands - ended up creating an album extremely cohesive and of high quality, in any aspect. If melodic hard rock is your scene, prepare yourself for an awesome surprise.
The key sound of the band is featured in the rockers "Chasing Fire," "This Is The Moment" and "Keep The Dream Alive," where guitars and keyboards share the front line on those songs, while bass and drums surround the listener in deep layers where well placed vocals shine brightly. The arrangements are well taken care of and deserve your attention throughout multiple and incessant auditions.
But, in my humble opinion, the album's finest moments come from "Fallen Angels", a powerful and catchy rocker, as well as the excellent - and restrained - "Across The Water" and also the excellent "Love Can Be Stronger", another highlight of the album. These three songs reinforce the melodic character closely linked to the heavier bases and also reveals the perfect balance between the two parts. Three great examples of contemporary melodic hard rock that deserve your unrestricted attention.
But there's still more firewood to burn with "One Soul" (another highlight of the album), "Better Than Yesterday" and "No Retreat, No Surrender", all rockers with the best qualities that melodic hard rock can give to a song. And I cannot fail to mention the beautiful and engaging "Knowing The Both Of Us", a ballad with a classic structure and a counterpoint to the predominantly rocker tracklist. Listen to all of these with the utmost attention and without any moderation.
In short, the debut album by Kryptonite is very, very cool. It is true that it doesn't bring anything new to the table and doesn't differ that much from what is out there. However, all the songs are well constructed and perfectly interpreted. Still, among all the elements that make up this material, I must highlight the excellent work of Michael Palace, who parades class and talent to spare over the eleven songs. Finally, the production is well-matched, even though it has an exaggeration here and there, but nothing that compromises the integrity of the album as a whole. So, I repeat that if your scene is the melodic hard rock one, Kryptonite arrives as a beautiful surprise.
"Kryptonite" is out now, on Frontiers Records.

Categories: Album Reviews