| | |
| --- | --- |
| Posted on September 11, 2017 at 11:10 PM | |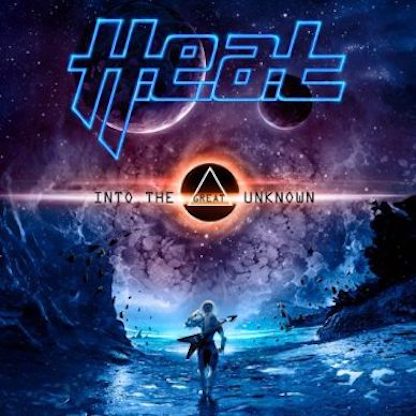 H.E.A.T. – Into The Great Unknown
Written by The Rock Man
Sweden's melodic hard rockers H.E.A.T. are proof that a television singing competition contestant (in this case, Swedish Idol) can take over the vocal duties of an established band and lead them successfully into the future. There are other cases where this has failed miserably but somehow H.E.A.T. have managed to turn this into a strength. Since joining the band in 2010, vocalist Erik Gronwall has elevated the group to new heights on the albums Address The Nation (2012) and Tearing Down The Walls (2014). But it is in 2017 that Gronwall and his fellow H.E.A.T. bandmates take their biggest leap forward with the stunning new release Into The Great Unknown.
There has been a minor change to the band along the way since we last heard from them on Tearing Down The Walls. Late last year guitarist Eric Rivers departed the band and was quickly replaced by former guitarist Dave Dalone who had left the band back in 2013. He now returns to the fold along with bassist Jimmy Jay, keyboardist Jona Tee, drummer Crush, and of course, singer Gronwall. As I say, the change is minor; so minor in fact that you wouldn't even know something happened as it has no bearing on the band's sound or ability to write an almighty good melodic rock song.
And that is exactly what you get from H.E.A.T. on Into The Great Unknown; a collection of 10 almighty good melodic hard rock songs. It has to be said that the benchmark is set pretty high with the opening cut Bastard Of Society, which is a blistering anti-establishment, anti-authoritarian anthem. Redefined follows and is a solid melodic rocker, while Best Of The Broken is a less than flattering view of the music industry and bubbles along with a steady toe-tapping beat before launching into a massive melodic chorus.
Blind Leads The Blind is a heavy guitar driven rocker with a great neo-classical keyboard section and scorching guitar solo. This is without doubt one of the band's heaviest tracks recorded. Eye Of The Storm serves the album as a mid-paced ballad-ish track that focuses on the hardships of being in a relationship. We Rule is a slow burner to start that builds into a heartfelt rocker. If it's classic radio friendly H.E.A.T. you're craving, then you can't go past Do You Want It? Lyrically the song is about bad sex; apparently inspired by a trip to Thailand, according to Gronwell. Bringing the album to a conclusion
is the seven-and-a-half-minute title cut. Some of the main features of the track include a massive gritty heavy guitar riff, lots of rhythmic strut, a big chorus and melodic harmonies and a nice symphonic section at the mid-way point where we find a trade-off between guitars, keyboards and bass.
While the title of this new effort is Into The Great Unknown there is no doubt where this band is headed. This is the band's fifth studio album overall and the third to feature Gronwall and its clear that H.E.A.T. have a very straightforward understanding of who they are, what they do best and what their fans want. Simply put: pure unadulterated rock and roll pleasure.
Categories: Album Reviews