| | |
| --- | --- |
| Posted on September 11, 2017 at 11:00 PM | |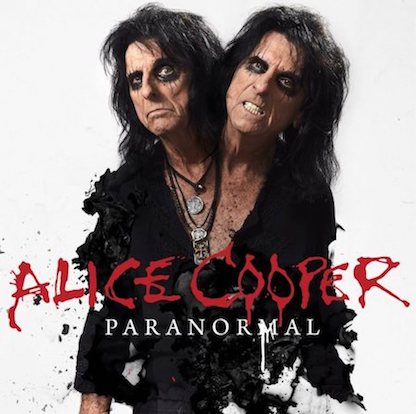 Alice Cooper – Paranormal
Written by Dave Smiles
Now sixty-nine years old, and with a career that spans five decades, Alice Cooper has achieved the status of rock royalty. He could simply tour off greatest hits packages for as long as he chose to, but in the sense of a true artist he is always creating new material, new stage shows and new entertainment. Although, when you're Alice Cooper – the poster child for everything that is wrong with the world – you'll never be short of material that needs to be reflected and put on trial for the world to see.
This album, Paranormal, shows Alice revisiting his past with guest members of the original Alice Cooper group, and serving up an album loaded with old school styles of Rock N Roll. It's a great sounding album, which I'd love to get on vinyl. The running time is just under forty minutes (without the bonus tracks) and it would stack up perfectly against Welcome To My Nightmare, Billion Dollar Babies and Killer. The style of the songs range from creepy Gothic Rock to Rockabilly to Garage Rock to Psychedelia, and there's even a touch of big band theatre. All of which Alice has touched upon throughout his career, but with a fresh approach and the unmistakable use of horror, humour and storytelling.
Paranormal tells a love story, but from the ghost's perspective, while Dead Flies is filled with social commentary about false prophets and contains a brilliant line – 'Your phone knows more about you than your daddy and your mother.'
Paranoiac Personality and Private Public Breakdown are about paranoia and insanity, but in typical Alice style, they focus on the enjoyment that comes from such behaviours.
Dynamite Road is about racing with the Devil and has a classic Alice Cooper punch line at the end; and for something a little different Holy Water tells the tale of Alice getting baptised in the river of love.
Old school fans will love that original Alice Cooper Band members Denis Dunaway and Neil Smith feature throughout the album, bringing a familiar sound to the tracks Fireball and The Sound of A – which is actually a lost song from 1967 that has finally been recorded. They also appear on the bonus tracks Genuine American Girl and You And All Of Your Friends.
If that's not enough old school rock for you, ZZ Top guitarist Billy Gibbons guests on Fallen In Love.
Since reappearing in the early 2000s, after a brief hiatus, with the Industrial Metal albums Brutal Planet and Dragontown, Alice has continued to develop and grow his sound, stripping it back to garage rock for The Eyes of and Dirty Diamonds, then revisiting concept albums with Along Came A Spider and Welcome 2 My Nightmare. He has a habit of making albums in pairs, so I'm very interested to see what he follows up Paranormal with.

Categories: Album Reviews