| | |
| --- | --- |
| Posted on September 11, 2017 at 10:50 PM | |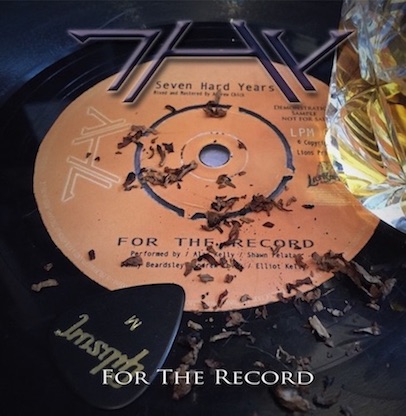 7HY – For The Record
Written by Juliano Mallon
Three years ago, 7HY (or Seven Hard Years, if you prefer) debuted in the melodic rock universe; led by multi-instrumentalist Alan Kelly (ex-Shy) and vocalist Shawn Pelata. Their first album, the beautiful "No Place In Heaven" was well received, as was their second release "Stories We Tell" released in 2016. Now the duo returns to the scene with "For The Record", an effort that maintains the same formula and melodic structure featured on their previous albums, but this time around the guitars have gained even more prominence - while the keyboards have been relegated to the background almost entirely - giving a more aggressive and calculatedly raw sonority to the compositions, which are surrounded by a more modern aura, but not to the detriment of the melodic aspect.
The album is predominantly rockers, with sweeping songs like the excellent "Never Say Goodbye", the engaging "Nothing Hurts Me Like You" and the frantic "Uprising", all worthy of multiple auditions and maximum volume.
Following is the sullen and heavy "Be Who We Want," followed by the explosive "Can't Let You Go" and the shocking "That Song", composing quite a diverse trio of songs, but equally captivating and, because of that, deserving your total and unrestricted attention.
With more obvious keyboards, "Strangers Again" is an engaging mid-pacer, unlike "We Can Be Strong," a dynamic and exciting rocker that opens the way for the great "I'm Gonna Be You," a potent rocker which stands out, as well as the cadenced "What Love Can Make Me Do" and "What Is The World?", an introspective and engaging power ballad that deserves - like the other songs previously cited - multiple auditions in no moderation.
In short, "For The Record" brings 7HY with a more "in-your-face" kind of album, but with the usual quality. The album sounds more crude and less refined, besides counting on a more modern aura and undeniably heavier, a detail evidenced by the guitars that were favoured in all the arrangements. Besides, the diversity brought by the pair of Kelly / Pelata only ratifies the talent of the duo, showing not only versatility, but mainly, the ability to bring a musically diverse album when compared to its predecessors, but bearer of the same melodic qualities while being equally cohesive as far as the tracklist goes. If "For The Record" is not an innovative work, it definitely can't be classified as redundant. And I really enjoyed the simpler, less-polished production. If the excesses in the production of most contemporary melodic rock albums irritates you, the new work of 7HY should suit you.
7HY's "For The Record" is out now, via Lions Pride Music.

Categories: Album Reviews