| | |
| --- | --- |
| Posted on August 15, 2017 at 12:30 AM | |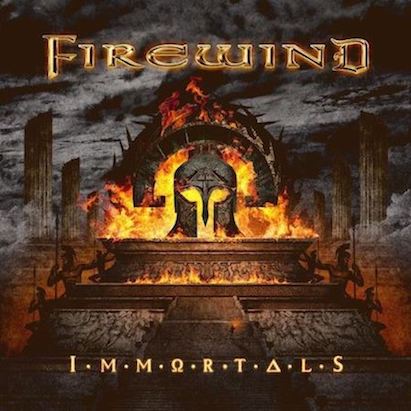 Firewind – Immortals
Written by Dave Smiles
After a few years of being on hiatus and without a singer it's great to finally have some new music from Firewind. I really liked the two solo albums Gus G released, but I have to admit I was worried it was going to be his main focus going forward and that we'd heard the last of Firewind.
But fear not, they're now back at full strength with new singer Henning Basse on board. Basse is a perfect fit for the band and has great vocal range, tone and a subtle element of menace, which comes out through his use of not so much a growl, but more of a sneer. His voice works great for the fast songs, and has a chance to shine on the slower tracks. There's also some great use of spoken word introductions to set the topics and themes.
There's some very cool performances on these songs. Great backup gang vocals, killer riffs, double bass drumming, impressive solos, harmonised leads, keyboard solos – everything you'd expect from Power Metal. There are bands with musicians that can play really well, but the songs sometimes come across as a bit self-indulgent. Firewind have always had the right balance of self-satisfaction and audience satisfaction.
Throughout the album we're treated to a diverse collection of songs. There are some nice clean slow intros on songs like Ode To Leonidas, Live And Die By The Sword and Lady Of 1000 Sorrows, and then we have the more fast and aggressive tracks like Hands Of Time, We Defy and the awesome instrumental title track - Immortals, to name but a few.
I must point out I really like the artwork too. It's a bit understated but still very effective and an indication of the band at this point in time. In the digital age where artwork isn't anywhere near as appreciated as it was in times past, it's nice to see a band making the effort.
Overall, Immortals is Power Metal done right. If you like your metal with great musicianship, and lots of playing then you're going to love this album.

Categories: Album Reviews