| | |
| --- | --- |
| Posted on August 15, 2017 at 12:25 AM | |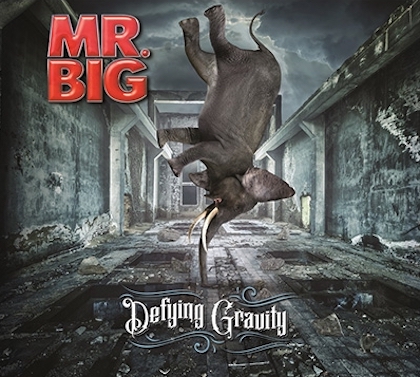 Mr. Big – Defying Gravity
Written by The Rock Man
They just don't make them like they used to…. Or do they? As a fan of hard edge rock and roll bands from the '80s I often lament "The good old days", when bands took pride in their work and created music from the soul and with conviction. These days there seems to be a lack of imagination, technical excellence and passion about making rock albums, about track selection, about cover design and about delivering a quality product to the fans who made their careers a success in the first place. However, Mr. Big are one of the few bands left from that by-gone era that could mount a serious case to the contrary.
The band are into their 28th year of recording music and over that time I am yet to hear one sub-par or rubbish record. Their brand new effort Defying Gravity is no exception and maintains the high level of craftsmanship associated with this band. And when any band can boast the outrageous magnitude of talent from musicians like guitarist Paul Gilbert, bassist Billy Sheehan, drummer Pat Torpey and vocalist Eric Martin, then it hardly comes as a surprise that anything they record is going to be of the highest standard possible.
Sheehan doesn't just play bass and make music. No, he creates works of sonic art and the notes emanate from the speakers and dance before your eyes. Gilbert mesmerizes and dazzles as his versatile fingers navigate with ease across the fret board and guitar strings. While Martin effortlessly blends rock and roll crunch with a smooth sensual soulfulness and pitch perfect harmonies that leave many of his frontman counterparts looking flat and lifeless. And then there is Torpey, who was diagnosed with Parkinson's disease back in 2014. The fact that he can play at all is testimony to the human spirit and with the addition and support of drummer Matt Starr, who was brought in for this project, lays down some solid, groove-laden rhythms.
In a move that will feel all too familiar for long-term fans of the band, the record kicks off with the spoken phrase "Okay, we're rolling!". This was used to great effect on the opening track of their debut self-titled album way back in 1989, and once again the band ventures down this road with equally stunning results on Open Your Eyes. The album's title song is a great little rocker with a quirky melodic guitar hook running through the verses before exploding into your standard massive Mr. Big chorus; this is then proceeded by Everybody Needs A Little Trouble, which is classic Mr. Big with its big polished production, deep driving rhythms, shredding guitars and dynamic vocals.
The pace takes a slight detour with the acoustically drive mid-tempo Damn I'm In Love Again. Here you'll find lots of vocal harmonies and soulful "Do-do-do, do-do, do's" and "Yeah, yeah, yeahs" and sentiments of unexpected love. Mean To Me is an eclectic rocker, the standout feature here is the duelling licks between Sheehan's deep cutting bass and Gilbert's high pitch guitar hook that inevitably launch into a smoking solo. Interestingly, the track was musically inspired by the rhythm section of Christina Aguilera's What A Girl Wants and has been twisted to fit the band's needs, this track alone is worth the price of admission.
Further down the track listing other highlights worth noting include the mid-paced ballad Forever And Back, where Martin's vocals come into their own as he contemplates lost opportunities in love. There is the brilliant rocker 1992, where the band reflects on their sudden and meteoric rise to fame during the early '90s with the chart topping To Be With You single and the blues-laden Be Kind which brings the album to a satisfying conclusion.
From day one Mr. Big have prided themselves on not just making good quality records but blazing high impact pieces of music and Defying Gravity is yet another example of that creative excellence.
Categories: Album Reviews