| | |
| --- | --- |
| Posted on August 15, 2017 at 12:10 AM | |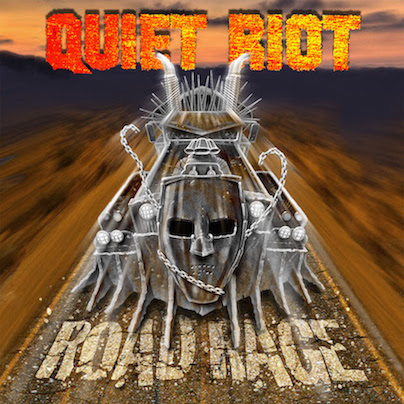 Quiet Riot - Road Rage
Written by The Rock Man
You never forget your first. Whether it's your first car, your first job, your first date, your first whatever… you never forget. In 1983 I had my first encounter with L.A. Heavy Metal and a whole new world opened up to me thanks to Quiet Riot and their album Metal Health. Since then Quiet Riot have been an integral part of the soundtrack to my life and regardless of the vocal revolving door policy that has dogged the band since original singer Kevin DuBrow's passing in 2007, I have continued to support the band in whichever version it presents itself.
This newest incarnation sees new vocalist James Durbin join guitarist Alex Grossi, bassist Chuck Wright and band stalwart drummer Frankie Banali on their new studio recording Road Rage. This is a brand new chapter in the band's legacy as Durbin, a former American Idol contestant, takes the reigns of the band's vocal duties after the departure of Jizzy Pearl. The one thing I try to do each time the band changes lead vocals is try to leave my love and affection for Kevin DuBrow at the door and judge the band on what they are doing here and now. Because let's face it, the simple fact is no one is going to come close to DuBrow; much the same way as no one will ever come close to Freddie Mercury in Queen.
So what does this all mean for Durbin? Well, after a couple of listens to the album I believe that the guy might have a future as the frontman of these metal legends; after all, Banali has put his faith in this young kid, so I'll back his judgement and do the same. Musically that big, bombastic '80s swagger still exists and is flaunted throughout the album. From note one of the opening cut Can't Get Enough it is crystal clear the band have regained their appetite for their craft. The track features all the hallmarks which has made the band an iconic name in metal music: gritty, raw and meaty guitars, solid and unwavering groove-laden rhythms and powerful, take-no-prisoners vocals.
To prove that this wasn't dumb luck, the band repeats this formula over and over with each track and the results don't lie, this is a solid, fun, let-your-hair-down record. Some notable highlights include Wasted, Knock 'em Down, Renegades and Still Wild which are all balls-to-the-wall rockers and serve as a fair sample size of work to give an indication of where Quiet Riot is heading from this point on. But the two tracks that stood out for me as the "gold standard" were Freak Flag and The Road. On Freak Flag we find the band in "classic" Quiet Riot mode, the track is dripping with a big driving bass line, an irresistible drum strut, a healthy dose of guitar arrogances and a massive melodic chorus. While The Road serves as the album's mid-temp ballad-ish track as the band reflects on life on the road as a touring act and thoughts about the families that get left at home.
It has been well documented the struggles this band, and Banali in particular, have gone through since the passing of DuBrow. I am just thankful that the band appears to be in a peaceful place right now and can enjoy making music once more and if Road Rage is anything to go by then whatever is to come next has the potential to be very exciting. Thank you Quiet Riot for all your past efforts and for your welcomed return.
Categories: Album Reviews