| | |
| --- | --- |
| Posted on August 15, 2017 at 12:05 AM | |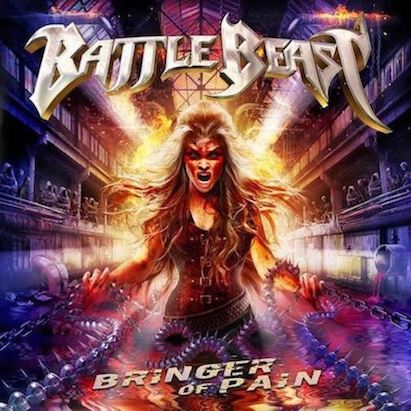 Battle Beast – Bringer of Pain
Written by Dave Smiles
I discovered this band a few years ago with the release of their self-titled sophomore album. Their first with Noora on vocals. I love that album, and how they write bombastic Metal songs in the vain of Nightwish, but with a unique spin on it. Then when they released their next album, Unholy Saviour, I lost interest. It wasn't that it was a sudden departure of change of style, but rather that they seemed to be going through the motions.
So it was with great interest and a little trepidation that I gave a listen, and I'm happy to say that they're back in fine form and have forged ahead with honing their sound. They sound fresh and inspired; the addition of their new guitarist Joona Bjorkroth appears to have done them the world of good.
Bringer of Pain consists of powerful songs with great hooks. Those familiar with Battle Beast know that they draw as much influence from pop music as they do from metal and the combination works brilliantly, resulting in great hooks and catchy choruses. And when I say there's a 'pop' influence, I'm talking 'old school', not the crap that charts these days.
Singer Noora has some awesome pipes and uses her vocal range to brings an amazing energy to these tales of trials and tribulations. The band is sounding amazing, and all work well together. This is a six-piece band we're talking about so there's a lot going on in these songs. In order for it to work, the musicians have to know and play off each other's strengths. They do so in a way that has brought out the best in each other and in doing so has created the definitive Battle Beast album to date.
Killer tracks from start to finish with the power you'd expect from this band, with some moments of beauty brought through the use of melody. This is upbeat and enjoyable metal.
Credit must be given to the engineers of the album. Mixing all the various tracks down into a final product that allows each instrument to be heard and to allow for the songs the breath is no easy task. It's a job well done.
Categories: Album Reviews