| | |
| --- | --- |
| Posted on June 28, 2017 at 2:10 AM | |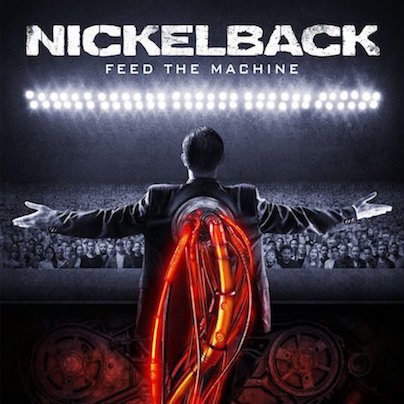 Nickelback – Feed The Machine
Written by The Rock Man
I'm going to ask you to do something, which for some of you may be difficult - I want you to forget everything you think you know about Nickelback. Forget that they are one of the most commercially successful groups to come out of Canada. Forget that they have sold over 50 million albums worldwide. Forget that Billboard ranks them as the most successful rock band of the 2000s. And forget that they have become one of the most hated bands over the past 20 years. I want you to try and forget all of that because if you do, then you may be blown away by the direction of their new album Feed The Machine.
This new body of work is the band's ninth studio release and it's also their grittiest, edgiest, rawist, most aggressive, take-no-prisoners effort to date. Sure, on previous albums they have had some vigorous and intense moments, but nothing like you'll experience on Feed The Machine. At several points throughout the album I found myself thinking about the sonic tone of the material, "OMG they are so enraged!", and I for one loved it.
The first single and title track kicks-off the album and from note one sets out very clearly and commandingly Nickelback's mood and course plot over the next 45 minutes. Guitarist Ryan Peake is on fire throughout this record and his work here can more than hold its own against some of the best in the metal world. While frontman Chad Kroeger sings with a passion and sometimes rage I haven't heard since Never Again and Too Bad. Oh, and that pounding, almost bursting feeling you'll experience in your chest, that's coming from bassist Mike Kroeger and drummer Daniel Adair.
What thrilled me the most about Feed The Machine is the relentless nature of the album. There is very little time to catch your breath as you work your way through one potent and driving track to the next. Some noteworthy moments include Coin For The Ferryman, For The River, Must Be Nice and the dynamic and enraged The Betrayal. Of course there are a handful of ballads on here but even they seem to have a bit more edge to them musically and occasionally lyrically. Take for example Home (which may or may not have been influenced by Kroeger's failed marriage to singer Avril Lavigne) has a definite regretful and irritated tone to it.
What you won't find on the album is cliché rock and roll lyrics that they have become known for such as "I like you pants around your feet". Instead Kroeger and co appear to have some stuff they want to get off their collective chests and leave the listener in no doubt what they think about a range of issues such as a possible dystopian future, emotional despair and hopelessness, social consciousness and the affluently privileged.
Like I said at the beginning, forget what preconceived ideas you have about this band. Feed The Machine could be a defining moment in the group's career; and it may change a lot of people's minds and introduce the band to a new generation of fans. What I can say with absolute clarity is that Feed The Machine is one mighty impressive work of outstanding craftsmanship and artistry.
Categories: Album Reviews